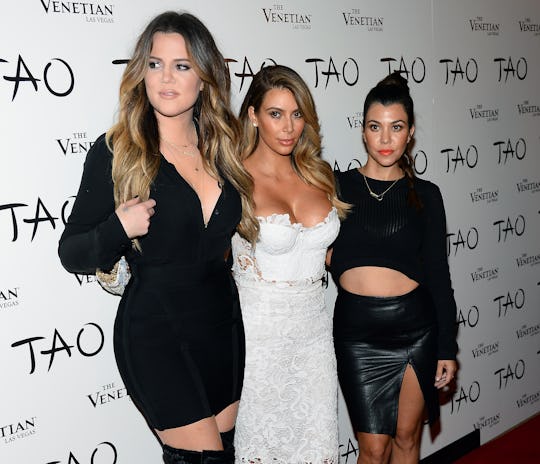 Ethan Miller/Getty Images Entertainment/Getty Images
The Kardashians Christmas Celebrations Are Always Super Glam
The Kardashians are full of traditions — their first initials are even a tradition. And when it comes to Christmas, they do it big year after year. So how do the Kardashians celebrate Christmas? With a lot of holiday decorating, a lot of photos, and a lot of parties.
On her app Tuesday, Kim dished the details of some of those newer traditions with Kanye and her longtime traditions with the Kardashian klan. For Kim, it all starts with picking out decorations at Aldik Home, according to E! "I swear, every year someone tries to steal my decorations ideas! I've started keep my plans to myself so everyone is surprised," she explained on her app. "I can get competitive, LOL – we all can! And, a lot of us love to use Jeff Leathem to help us bring the most incredible holiday décor to life."
Decorating is big for Kourtney, too. She also took to her official Kourtney Kardashian app this morning to reveal the look of her Christmas table.
"Christmas is one of my favorite holidays and we always go overboard in decorating the whole house," Kourtney writes on her app. "The kids love this time of year, so we have a tree in each of their bedrooms and also a bunch of big trees throughout the house. I usually have my sisters and the entire family over on Christmas morning, so I pull out all my holiday linens and plates to set the table."
E! reported that Kourtney "mixes new items with older, more sentimental items passed down from her parents, Kris Jenner and the late Robert Kardashian", like vintage Baccarat champagne coupes from their wedding. She also uses tall wine glasses from Crate & Barrel and smaller water glasses from Lee Broom. She says she has a full set of matching Christmas placemats, napkins and red, green, and white tartan plaid table runners from Williams-Sonoma that she uses every year, and her centerpieces are flower arrangements made of peeled-back red roses from Eric Buterbaugh.
Over-the-top holiday cards are also a longtime Kardashian tradition. While the Keeping Up With the Kardashians stars didn't share a Christmas card with us last year, they were spotted at Milk Studios in Los Angeles doing a photo shoot for their 2017 Christmas card back in November, according to E!
Kim also told guest host Jennifer Lawrence on Jimmy Kimmel Live that "it is making a return."
And quite the return it made. Kim wrote on her app that this year's theme is 25 days of Christmas, so she's been revealing a picture every day leading up to Christmas Day. They kept it simple this year, she said, with denim and white tees.
The soon-to-be mother of three has been teasing the Kardashian Christmas card on Snapchat and Twitter, according to Elle, just like a holiday advent calendar. She appeared to be revealing the kids in the family photo first. On Tuesday, a photo captioned "DAY 19" showed all the Kardashian-Jenner generations sitting and running around on a white background.
Followers are wondering if this epic Christmas card series will ultimately reveal the truth behind Kylie's pregnancy rumors, Us Weekly reports. But while we anxiously wait for the full photo package to be delivered, Kourtney is preparing for a house full of kids (and possibly infants?). Kim wrote on her app that "she invites close friends and family over so that the kids can all be together."
On Christmas morning, Kim said that the entire family goes to Kourtney's house and wears matching pajamas while opening presents. But that's not the biggest holiday event. Kris Jenner throws a Christmas Eve party. Last year's was one for the books and "it might have been the biggest yet," according to People.
"My Mom's annual Christmas Eve party is probably everyone's favorite night of the year," Kim wrote on her app. "It's all our closest family and friends celebrating the holidays with a night of food, fun and dancing. Everyone gets glammed up and we have the best time. My mom is the ultimate host, and no one comes close to her decorating skills."
"The holidays are such a special time of the year," Kim also wrote. "I'm especially grateful for our large family and all the holiday traditions we've continued over the years. Passing these traditions down to my kids is really important to me and it just makes me realize how blessed we all are to be such a close family."
In fact, she added that the Santa they have at their annual Christmas party now is the same Santa they saw when she and her siblings were kids. Pretty adorable and incredible.
Editor's note: After publication, we discovered this article did not meet our editorial standards. There were portions that did not correctly attribute another source. It has been updated to meet our standards.
Check out Romper's new video series, Romper's Doula Diaries:
Watch full episodes of Romper's Doula Diaries on Facebook Watch.