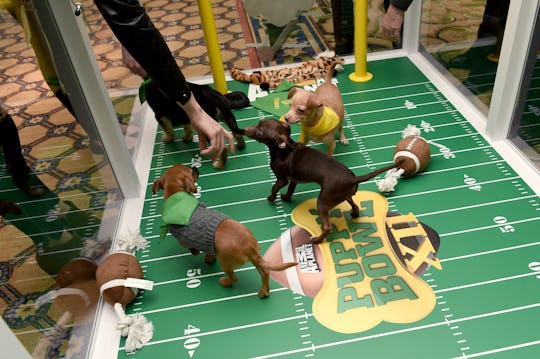 Amanda Edwards/Getty Images Entertainment/Getty Images
This Year's Puppy Bowl Puppies Have A Sweet Story
There is a lot to look forward to on Super Bowl Sunday — the seemingly endless array of chips and dip at Super Bowl parties, Lady Gaga's sure-to-be-amazing halftime performance — and the Puppy Bowl. For 12 years, the super adorable pups have been competing against one another in a competition more fierce than the Super Bowl itself. But how do they pick the Puppy Bowl puppies?
The training and try-out process for the Puppy Bowl is not nearly as tough or rigorous as the training that the New England Patriots quarterback Tom Brady more than likely had to go through to get to his seventh Super Bowl (give them a break though, they're just puppies), but the final event will likely be just as exciting, and the competition is just as "ruff." Before the Atlanta Falcons face the New England Patriots later on Sunday night, the Puppy Bowl will air on Animal Planet at 3 p.m. Eastern Time; Puppy Bowl teams Ruff and Fluff (yes, you read that correctly) will battle it out for the championship title.
While the competition in the Puppy Bowl is nowhere near as high stakes as the Super Bowl, it's still definitely worth getting into, especially if you're not too keen on sports. So how do they pick the adorable pups that form the teams taking to the miniature field — and more importantly, do they get tiny jerseys with their names on them?
As to the second part of that question, it seems the puppies don't wear jerseys (mostly because they are dogs). But don't worry — that doesn't make the Puppy Bowl any less amazing: As it turns out, the puppies are picked from animal shelters all across the nation, according to E! News. In 2013, a spokesperson from Animal Planet told E! about how the Puppy Bowl puppies are selected, noting,
Animal Planet works in conjunction with Petfinder during the selection process for the puppies. Petfinder reaches out to shelters and rescue organizations to see if they have puppies that meet the age and size requirements and if so, asks if they would be interested in have those animals be part of Puppy Bowl.
Basically, the animals just have to be the right shape and size in order to play in the Puppy Bowl. (All of which are fair enough requirements, given how NFL players are drafted.) According to The Washington Post, this year, "78 puppies were chosen from more than 30 rescue organizations around the country." The full list of shelters that Animal Planet used to find this year's puppies can be found here.
This year, according to Entertainment Weekly, a special focus was put on dogs requiring special assistance — with hearing impaired dogs and three legged dogs taking the field — to prove that dogs who look a little sick shouldn't be overlooked for the challenges they face. But the puppies don't return to the shelters once they're done winning (or losing) the Puppy Bowl — they get to go to good homes. While every single puppy competing in this year's Puppy Bowl was adoptable at one point, according to Mic, the majority of puppies have already been adopted. (Still hoping to get your hands on a little fluffy pup of your own? Head to a nearby shelter and inquire about adopting there.)
The puppies in the Puppy Bowl are picked with good intentions — to bring attention to dogs with needs and in the hopes that they'll go to good homes. That's something everyone can get behind.