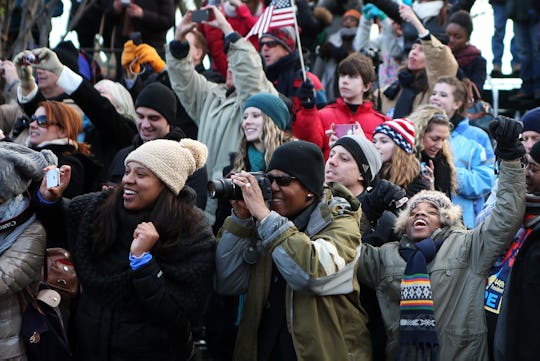 Chip Somodevilla/Getty Images News/Getty Images
Attending The Inauguration Is Not Easy
In just nine days, America will swear in its 45th president. The swearing-in ceremony on Inauguration Day is the climatic event that occurs every four years, as our nation engages in the fundamentally important process of a peaceful transfer of power from one leader to another. Naturally, there are plenty of Americans who want to be there in-person for this historic moment, and with a little over a week to go until the big day, some are wondering just how do you attend the inauguration?
First things first: Anyone can come to Washington D.C. to watch President-elect Donald Trump's swearing-in ceremony on the steps of the U.S. Capitol Building for free. But — and this is a pretty big but — if you want the good "seats" (because it's actually standing room) that are within about a half-mile from the stage, you'll need a ticket. This includes any and all children who might be with you, too. The Joint Congressional Committee on Inaugural Ceremonies has printed 250,000 tickets to the swearing-in ceremony, which will be distributed among House and Senate members, as well as to Trump himself. So, how do you get tickets to the inauguration?
The good news: It's as easy as contacting your representatives or senators. The bad news: Inauguration tickets were released to elected officials for distribution earlier this week. The "so you're saying there's still a chance" news: Some members of Congress release tickets on a first-come, first-serve basis while others use a lottery system, given the high demand for Inauguration Day tickets. One thing is for sure: If you see Inauguration Day tickets for sale, it's a scam. Just remember, even though tickets are required to access closer secure areas of the inauguration, they're still free tickets. And even if you scalped Inauguration Day tickets for sale, there's no way to even prove the ticket you buy is even legit.
Even if you can't score tickets to the swearing-in ceremony, remember that the inauguration is comprised of a number of events, from a wreath-laying ceremony at Arlington National Cemetery which will take place in the morning on Thursday, Jan. 19, to the Inauguration Day Parade following the swearing-in ceremony where the newly installed president walks from the Capitol Building to the White House.
If you're a fan of dressing up and have a few hundred dollars to burn per ticket, you can also attend one of the many official and unofficial Inaugural Balls happening on Friday night. If you're hoping to catch a glimpse of Trump in a tux strutting his stuff with Melania, he'll only appear at the two official Inaugural Balls; ticket information hasn't yet been released by the JCCIC.
If you want to go to the inauguration, but you're going to need a lot of planning, probably a good amount of transportation and lodging money, and just a little bit of luck, too.