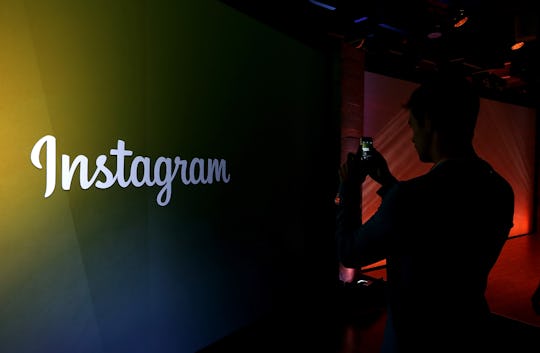 Justin Sullivan/Getty Images News/Getty Images
How To Get A Faded Instagram Selfie Sticker Frame
Hello? It's the future calling. And it's got even more selfies than you'd think. That's right folks, Instagram has unleashed a new feature that lets you literally put a selfie on top of another selfie. Selfie stickers are the latest feature from Instagram's new Story platform, and they're just as crazy as they sound. Basically, when you take a picture for your Instagram Story, you can then tap the sticker icon in the upper right corner, select the camera icon, and take another selfie to stick anywhere on your photo. But that's not all. So, how do you get a faded frame around a selfie sticker? It's easier (and more fun) than it sounds.
Simply put, a selfie sticker is easy to apply, and adjust. Like other stickers on Instagram, simply tap the icon to adjust the frame: it can be a white circle, or a more faded, vignette style effect. You can also adjust the size of the selfie sticker as well, expanding it to be larger or smaller, and placing it anywhere on your screen. Of course, you can still add other stickers, captions, locations, time stamps, or weather updates as well onto the photo. The selfie sticker feature let's you get creative, and think outside the box, literally.
You can also doodle on your post, as well as apply different filters to the original photo. Of course, users don't have to put selfie stickers on top of another, larger selfie. But it is kind of interesting to see technology literally giving us a form of selfie-ception.
The app's latest update also features new geostickers for stories reportedly in "four new cities," as well as increased stickers for videos and boomerangs. As of yet, Instagram hasn't really been using geofilters in the same way that Snapchat has, but that's likely changing soon, with this new update. According to TechCrunch, the only two cities to have the custom geostickers were New York City and Jakarta, Indonesia, though the latest update added four more to the mix.
Instagram's latest feature is sure to create some hilarious stories (seriously, just try putting your own selfie sticker over your baby's face, or vice versa, in your next Instagram pic — instant classic), and continue to ensure that today's society is as meticulously well-documented as possible. So, buckle up, y'all. Because if this latest Instagram feature is any indication, the future can only get more selfie-obsessed. Which, really, isn't that much of a bad thing, if you think about it.