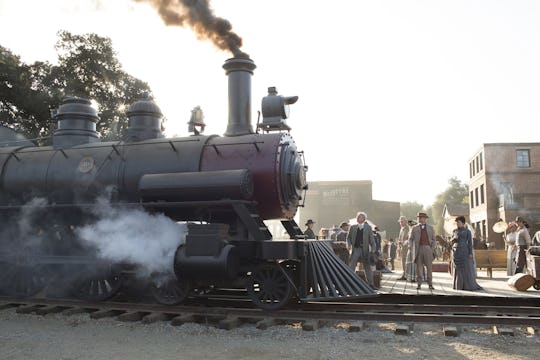 John P. Johnson/HBO
How Do You Get To Westworld? You Can Live The Experience On The Park's Website
While much of the details surrounding Westworld, the fictional adult theme park in the new HBO series of the same name are highly disturbing, I can't deny that some aspects of the park are somewhat alluring. I don't really have a hankering to try out judgment-free mass murder thanks anyway, but I have to admit that I would kind of love to saunter around in a customized bespoke prairie wardrobe. If the show is to be believed, however, there's a huge market for dormant psychopaths to engage in shoot-outs sans consequences. So how do you get to Westworld anyway? Well there's an active website for the park that's got all the details.
Actually, the details about getting to the park at the Discover Westworld site are rather slim. All you, potential Westworld guest, need to know is that literally everything will be taken care of for you. Once on the site, you can ask the company's online "host" Aeden anything you'd like. He will tell you that getting to the Delos Destinations compound will be simple. On the "stay" tab, you can put in your dates (looks like everything is booked), and the site assures you, "Upon booking your dates, our consultants will work with your local port authority to chart your course to the park. Bring nothing; worry about nothing."
You also have the option to enter in your email address. Should you do so, you will receive an email saying, "You are currently being considered for a Westworld profile. Should you be deemed eligible for this exclusive experience, one of our hosts will be in touch." It seems like a dream, but you may want to rethink your stay once you review Delos' terms and conditions, which include the stipulation that the following causes of accidental death have occurred: "buffalo stampede, self-cannibalism, accidental hanging, drowning, 3rd-degree burns, autoerotic asphyxiation, blunt force trauma, allergic reaction to non-native plant life, falling from great heights, common manslaughter, tumbleweeds."
I suppose I'll have to keep watching to see how self-cannibalism could possibly cause accidental death of a guest. After all, I'm still waiting for that email stating that I'm about to be a guest of the park.