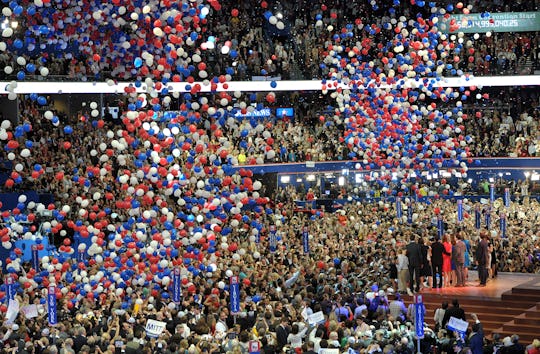 MLADEN ANTONOV/AFP/Getty Images
How Do You Go To The Republican & Democratic Conventions? They're Pretty Exclusive
The time has finally come for the Republican and Democratic conventions this summer, where delegates will choose the official presidential nominee for each party. This year, they're very likely going to be insane gatherings, with Republican frontrunner Donald Trump taking the stage in Cleveland at some point during the week of July 18 and former secretary of state Hillary Clinton fighting for the honor in Philadelphia the week of July 24. So how do you go to the conventions, whether Republican or Democratic? Prepare to be disappointed, because it's really freaking exclusive.
For the Republican convention, there are no tickets available for purchase. In fact, the party recommends becoming a delegate if you want to come to the party next year, which is really a crazy thing to suggest (not because it's impossible, but because that's a hell of a lot of work to go to for one convention ticket). The way to really get a sneak peak at all the happenings of the convention is to volunteer at various events throughout the week — that way, you'll get a true insider's perspective. Still, even that might not be a guarantee: The positions of runners, greeters, transportation, Americans with Disabilities trained volunteers (ADA), drivers, and event guides, as the RNC writes on its website, are usually outside of the venue.
The same goes for the Democratic convention in Philly — you can't buy tickets, so you have to volunteer.
They're still taking applications, so there's time for you to hustle and get down to the City of Brotherly Love. But there are other events surrounding the convention that you can buy tickets to. The Democrats are hosting PoliticalFest, an interactive, history based event festival. Tickets are just $15 for all six days. Plus, if you volunteer in Philly, you're entered to win tickets to see Alabama Shakes and Ryan Adams, which is a pretty cool perk.
Of course the place to be is inside the convention halls for the speakers during the crazy rounds of voting for each nominee (especially if it's going to be a contested convention in either city, as some have speculated could still happen). So far, at the Republican convention, Texas Sen. Ted Cruz and Wisconsin Gov. Scott Walker are confirmed speakers. It was rumored that Mike Tyson was invited by Trump to speak, but that looks like it's turned out to be a rumor. "We have such a great convention planned," Trump said, according to ABC News. But other, surprise speakers are still under wraps. Likewise, the DNC speakers are also not public yet.
The conventions are also when the candidates will announce their vice presidential picks, so they will likely get to speak as well. The only way the average American is going to be able to see it — besides valet parking cars or something outside of the stadiums — is probably on CSPAN.
Don't be too bummed out though: Watching from home is more comfortable anyway.