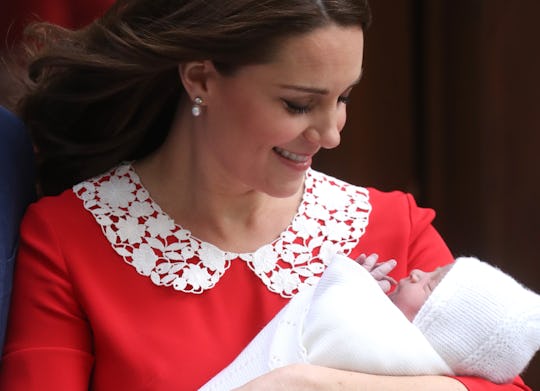 Chris Jackson/Getty Images Entertainment/Getty Images
How Do You Pronounce "Louis"? The Royal Baby's Name Is Causing A Bit Of Confusion
The world has anxiously been awaiting confirmation of the name of the newest baby prince after Catherine, the Duchess of Cambridge, gave birth to her third child in London on Monday. Kensington Palace revealed early Friday that his name was, in fact, Louis Arthur Charles — aka, His Royal Highness Prince Louis of Cambridge — but even though the big news has been shared, some people are still confused. How do you pronounce "Louis"? Depending on where you live, you might not be saying it right.
Even though Louis wasn't actually the front-runner when it came to royal baby name predictions — that honor went to Arthur — it's not exactly surprising that it ended up being the name the Duke and Duchess chose. After all, in addition to being very traditional, it also has a strong family connection: Prince Philip's grandfather was Prince Louis Alexander of Battenberg, and Prince Charles' great-uncle was Earl Louis Mountbatten, according to TIME. But adding even more sentimental value is the fact that that Louis also happens to be one of Prince William's middle names (his full name is William Arthur Philip Louis), and it's also one of the middle names that was given to Prince George (George Alexander Louis) in 2013.
That's all well and good of course, but the one obvious downside of Louis compared to a name like Arthur? Not everyone pronounces it the same way (much to the chagrin of people actually called Louis):
And it seems like many people were legitimately confused:
The couple has yet to actually say the name out loud, but plenty of Twitter users made sure to clarify that the young boy's name is in fact pronounced "Louie," not "Lewis":
Yet some revealed that the name still had some serious drawbacks (at least, if you aren't fifth in line for the British throne):
One thing that seems certain though? The fact that Louis is now the name of a British prince means that we can expect the name itself to become much more popular. After all, while the Duchess of Cambridge has long been able to help an item of clothing sell out almost instantly just by wearing it out in public (a phenomenon dubbed "The Kate Effect," according to Hello!), she also seems to have a similar impact on baby names.
Both George and Charlotte experienced a rise in popularity after the Duke and Duchess chose the names for their children: after Prince George's 2013 birth, the name George entered the top ten list of most popular baby boy names in England and Wales, according to the Office of National Statistics, ranking third in 2016, compared to 14th a decade earlier. And Charlotte also experienced a royal-inspired reinvigoration: while the name sat at 25 on the list in 2015, it shot up 13 spots to number 12 in 2016, the year after her birth, according to Vogue.
Although, to be fair, many are also going out of their way to point out that there is already one popular British Louis who has already made the name totally iconic — One Direction's Louis Tomlinson:
In fact, some couldn't help but wonder if perhaps this all-important meeting may have had something to do with the couple's name choice?
Louis may not have been everyone's first choice for the new royal baby's name, but given its strong family history, it does make a lot of sense. And honestly, the Duke and Duchess likely just performed a huge public service for all the frustrated Louis of the world: now that they share a name with Britain's newest prince, they'll probably be able to take a bit of a break from constantly having to correct everyone who feels inclined to call them Lewis.