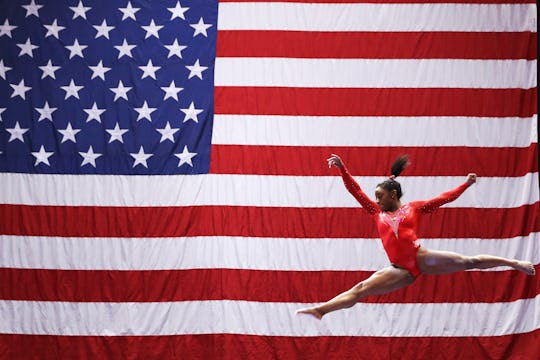 Maddie Meyer/Getty Images Sport/Getty Images
How Do You Qualify For The U.S. Women's Olympic Gymnastics Team? Trials Are A Challenge
Forget Batgirl and Black Widow: the gymnasts competing for a position on the United States Olympic team are basically real-life superheroes. In August, a handful of wildly-talented athletes from across the country will jump, cartwheel, and somersault their way to victory at the 2016 Summer Olympic Games. But before a sporting superstar can go for the gold, they've got to earn their ticket to Rio. How do you qualify for the U.S. Women's Olympic Gymnastics Team? Women have to rock the trials in San Jose.
Here's how it works: according to NBC, the U.S. Women's Gymnastics Olympic Trials take place on Friday and Sunday. 14 gymnasts are set to compete, but only five will ultimately score a spot on the team. The all-around champion at the trials automatically gets to go to Brazil; officials choose the other four gymnasts with the goal of creating a well-rounded team. Even if an individual doesn't excel at every event, they may be good enough at one or two to get a chance at making their Olympic dreams come true. This year's biggest standout is Simone Biles, The Wall Street Journal reported; she's been the all-around winner at the World Championships three years in a row. Gabby Douglas won gold in the all-around competition at the Olympics in 2012, and she's expected to make a return trip this year. USA Today named three other standouts: Aly Raisman, who nailed her floor exercise at the U.S. gymnastics championships in June; Laurie Hernandez, who showed serious prowess on the uneven bars; and Madison Kocian, who may be most directly threatened by Ashton Locklear.
To understand how the Olympic Selection Committee evaluates athletes, it helps to get a sense of how they score gymnastics. The two most important numbers are the start value and the execution score, according to NBC. Before a gymnast competes, her planned routine is assigned a start value based on difficulty. During the competition, gymnasts lose points from that start value for any errors; their execution score indicates how flawlessly they completed a routine. A gymnast with a relatively low execution score can be elevated in the eyes of the committee by a high start value, and vice-versa. Judges also look for consistency: they want to know that a gymnast is able to successfully complete a routine nearly every time they attempt it. The assessment doesn't stop there: the committee looks at each athlete's abilities as a performer, gauges her fitness level, and evaluates whether she'd make a good team player. Though it's easy to get a sense of the top contenders based on past competitions, the selection criteria combines quantitative and qualitative evaluations that make trials unpredictable (and wonderfully fun to watch).
Often, male and female gymnasts compete at the same time to qualify for the Olympic team. According to NBC, USA Gymnastics separated out the trials for the first time in 40 years. Though women stunned in the 2012 Olympic gymnastics competition, men struggled — their challenges seem to stem back to a lack of adequate preparation time between the team selection and the Opening Ceremonies. USA Gymnastics decided the men's team should be finalized earlier than the women's in order to give male athletes an additional two weeks to practice together. The five athletes chosen for the U.S. Men's Olympic Gymnastics Team, according to The Wall Street Journal, include the consistently strong performer Chris Brooks, pommel horse powerhouse (and 2012 alternate) Alex Naddour, and veteran Olympians Jake Dalton, Sam Mikulak, and John Orozco.
Fans can tune in to the women's trials this weekend, according to NBC. The competition starts Friday, July 8 at 9 p.m. Eastern Time on NBC, then continues Sunday, July 10 at 8:30 p.m. Eastern Time. Anyone who prefers to catch the coverage online can see the U.S. Women's Gymnastics Olympic Trials live stream beginning at 8:30 p.m. Eastern Time on Friday and at 8 p.m. Eastern Time on Sunday.