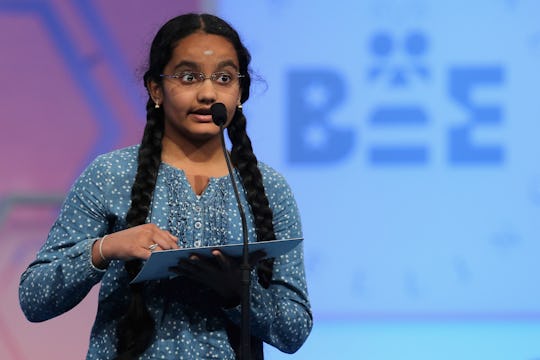 Chip Somodevilla/Getty Images News/Getty Images
How Does A Kid Qualify For The Scripps National Spelling Bee? More Than 180 Teens Compete
On Thursday, 235 of the nation's most eager young spellers will compete to win it all at the finals of the 88th Scripps National Spelling Bee in Washington, D.C. There's a lot more required of interested students than just memorizing obscure words: To hold the honor of being one of the 144 boys and 141 girls to take the stage in the nation's capitol, the young contestants must meet strict requirements for participation. How does a kid qualify for the Scripps Spelling Bee? The road to greatness — and a $40,000 cash prize for the first place winner — begins with a child's own school.
At a very overhead level, there are two general requirements for eligibility to participate in the National Spelling Bee. First, students must not have yet turned 16 years old nor passed beyond the eighth grade. Secondly, the student's school must be officially enrolled in the Scripps National Spelling Bee program. For the 2016 Scripps Spelling Bee, the largest portion of contestants — almost 40 percent — are 13 years old. Akash Vukoti is the Scripps Spelling Bee's youngest contestant this year at just 6 years old! While age is certainly one of the most important eligibility requirements for the Scripps Spelling Bee, there are a few lesser-known qualifications as well.
One of the most interesting eligibility rules is that a "speller must not have won a Scripps National Spelling Bee championship near Washington, D.C." That means no repeat winners, allowing for a wider playing field. Once a speller wins first place at the national level, it's instant retirement from the National Spelling Bee circuit.
However, if a student doesn't win and still meets the basic eligibility requirements (under 16, not passed eighth grade, and participating school), they can still come back to compete until they're no longer eligible. This year, there will be 70 spellers who have competed in at least one previous National Spelling Bee. One speller — 13-year-old Zander Reed — will compete for his fourth time this year.
Here's another interesting eligibility rule — one that clearly exists because someone must have tried to find a loophole in the past. From the Scripps Spelling Bee website: "The speller must not have repeated any grade for the purpose of extending spelling bee eligibility."
But being eligible for the Scripps Spelling Bee isn't all about meeting age requirements, either. The eligibility rules clearly state that spellers "must not eschew normal school activity to study for spelling bees." The rule goes on to specify that a speller must engage in at least four courses of study per weekday outside of courses related to language arts. While studying up for a spelling bee can certainly provide educational benefit, spellers shouldn't be neglecting things like math, science, and gym class. This also prevents parents or guardians from pulling their speller out of school entirely to prepare for the Scripps Spelling Bee.
And if you don't believe that kids don't study like spelling warriors for the Scripps Spelling Bee, you'd be wrong, as this trailer from the 2002 documentary Spellbound reveals:
The Scripps Spelling Bee should be an exciting one this year, as, according to new rules this year that, like Highlander, there can be only one winner. The last two years the Scripps Spelling Bee has ended in a tie, thus resulting in two co-champions. But for the 88th Scripps Spelling Bee, there will be no more ties allowed.
The Scripps Spelling Bee finals will air on ESPN at 10 a.m. and 8 p.m. Eastern Time on Thursday and I bet they are going to be A-W-E-S-O-M-E.