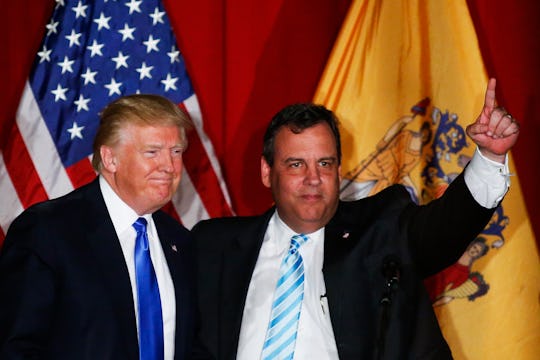 EDUARDO MUNOZ ALVAREZ/AFP/Getty Images
How Does Chris Christie Know Jared Kushner? They Have A Rocky Relationship
President-elect Donald Trump's transition into the White House has been rocky, to say the least. In the past week since the transition first began, the team has seen shakeups in leadership involving everyone from New Jersey Gov. Chris Christie to Trump's son-in-law, Jared Kushner, both of whom have a past together. So how does Chris Christie know Jared Kushner? The two go way back — long before Kushner married into the Trump family and before Trump ever set his sights on the White House.
Kushner is married to Trump's oldest daughter, Ivanka — and now he has a much larger role than son-in-law. According to CNN, Kushner is one of Trump's top advisors but is reportedly "at the center of the 'infighting'" inside of Trump's transition team. Why would there be fighting in the transition team? According to CNN, there is an "effort to replace the transition team members associated with Christie."
Christie and Kushner met long before Trump was transitioning into the White House and loyally campaigning for Trump. In fact, Christie and Kushner have a not-so-friendly history that dates back to the early 2000's — even before Christie became governor of New Jersey. In 2004, Kushner's father, Charles Kushner, was indicted for tax evasion. The person who prosecuted Charles and sent him to prison for two years was none-other than the U.S. Attorney for the District of New Jersey, Chris Christie.
Charles' prosecution, according to CNN, pushed Christie into the spotlight (who then claimed the sentencing was a "great victory for the people of New Jersey") and prompted Jared to take over the family real estate business, according to Esquire. According to New York Magazine, Kushner is very close with his father and "the conviction meant Jared had to grow up immediately." All things considered, it's understandable why Kushner and Christie would have such a rocky past.
As the age old saying goes "blood is thicker than water" — and that saying probably rings especially true for Kushner. He has remained loyal to his father's side — and now his wife's side, in spite of his investment in politics. Jared's advising to Trump has been critical: According to Esquire, Kushner was reportedly "on hand" to choose Trump's running mate to Mike Pence. According to CBS News, the offer to be Trump's running mate was reportedly given to Christie at one point — but was rescinded because "others in [Trump's] inner circle convinced him otherwise." It was not officially confirmed whether Kushner had any influence in that decision, although it's not exactly difficult to form your own theories, based on the above case study.
Christie and Kushner's relationship is reportedly rocky, to say the least. Throughout Trump's campaign, Kushner has shown that family — even the family that you've married into — is incredibly important to him. What that means for Christie isn't exactly hard to gather.