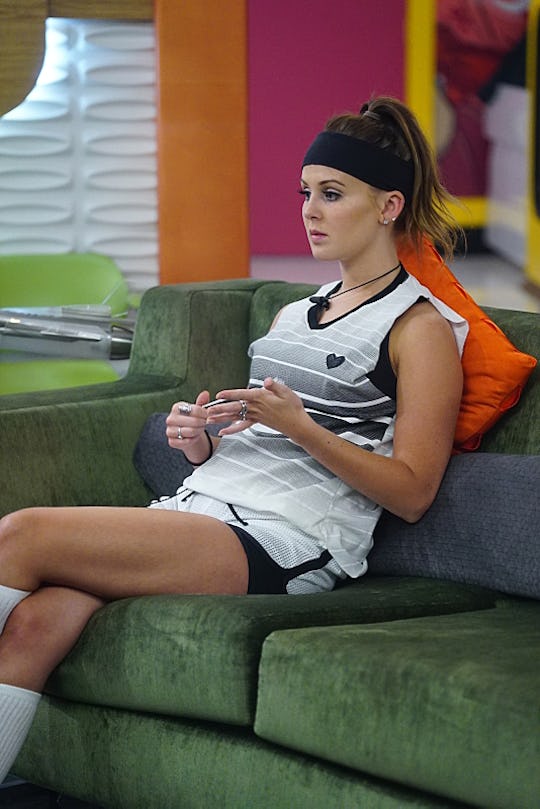 Sonja Flemming/CBS
How Does Co-HOH Work On 'Big Brother'? Michelle And Natalie Are Running The House
Each week on Big Brother the houseguests compete to be the head of household, or HOH for short. However, things are a little bit different this week. Natalie won the HOH competition making her HOH for the week but Michelle received America's Care Package, which made her Co-HOH. So how does Co-HOH work in the Big Brother house and how will it affect the houseguests?
This week there are two HOHs, which means they split the power. Michelle and Natalie get to share the HOH room, they're both safe for the week, and they each get to nominate one houseguest for eviction. Michelle and Natalie are friends in the house so they actually collaborated with each other and decided who they were going to nominate together rather than separately. Although last week Natalie, James, and Michelle were allied with Paul and Victor, after Nicole whispered in James and Natalie's ears that Paul was targeting James, Natalie decided Paul should be her target.
Whether or not Paul really had any intention of going after James is irrelevant because after Natalie and Michelle talked about it they both agreed it would be in their best interest to get rid of Paul who has a good chance of winning the game. They also decided to nominate Victor because he's a competition beast and also a great threat in the game. Now that Paul's won the power of veto it seems Victor is the target and will be heading out the doors of the Big Brother house for the second time this season. However with a jury buy back on the horizon, Victor will have another chance to get back into the house if he gets evicted once again.
Taking a shot at Victor is a big risk for Michelle and Natalie, especially because neither of them will be able to compete for HOH on Thursday night. Unless James win HOH, Michelle and Natalie could be in danger of going on the block for the big shots they took this week together. However, depending on who returns on Thursday night the whole house could end up being flipped and someone else could become a target. As is always the case with Big Brother, Michelle and Natalie will just have to expect the unexpected and hope the moves they make this week don't come back to bite them.