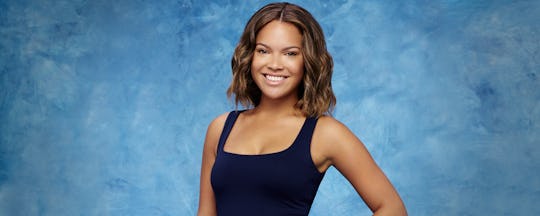 How Does Jami Know Kaitlyn Bristowe? 'The Bachelor' Contestant's Connection Won't Necessarily Help Her In The Long Run
The newest season of ABC's The Bachelor is well underway and already there have been plenty of surprising revelations. From chicken enthusiasts to self-described cowgirls, Bachelor Ben seemed to have more on his plate than he knew what to do with during the show's big season premier on Monday night. One of the bigger reveals of the night came when Jami told Ben that she knew Kaitlyn Bristowe, a fellow Canadian and the most recent Bachelorette.
According to gossip columnist Reality Steve (who apparently has an in on all things Bachelor/Bachelorette), Bristowe and Jami have been friends for a while, having previously worked together at North Vancouver's Cactus Club restaurant. An Instagram photo taken in 2013 (and later posted to Jami's Facebook profile in September 2014) seemed to show the two women together at an Edmonton Oilers hockey game, and an adorable selfie uploaded in March 2015 proved that the two had kept in contact since then.
On Monday night, the rumors were finally settled when Jami herself confirmed as much in her initial meeting with Ben. While introducing yourself as the bestie of someone's ex-girlfriend might not be the smoothest way to win yourself a rose, it's guaranteed to leave a lasting impression — and at this point in the game, that's all that really matters.
A WetPaint report last October claimed that Bristowe had first introduced Jami to Bachelor producers following her own short-lived relationship with the Indiana native on the ABC reality show last year. As awkward as that might seem, it doesn't necessarily mean 23-year-old Jami won't make it to the final five. (Stranger things have happened, after all.)
Whatever does happen, it's a safe bet that the two women will remain friends long after the show is over, considering just how far back they go (three cheers for female friendship!) — and that fact alone could definitely work in Jami's favor. Because while Ben told a room of reporters this week that he's not looking for a Bristowe's carbon copy, he did confirm that he was looking for a lady who understood the value of, well — values.
"I'm going to find a woman that likes my small-time values," Ben said in a conference call, according to Zap2It. "... [I'm trying] not hold myself back from deal breakers ... and I just want to get to know these women and see if there's a connection."
If Ben is telling the truth, then Jami's connection to his ex might not be as big of a problem (or leg-up) as everyone expected. And hey — even if a romantic relationship isn't in the cards for this season's Bachelor, at least the three of them can get drunk together and figure out what the hell was up with the chicken-lady. Right?
Images: ABC; Jami Letain/Facebook