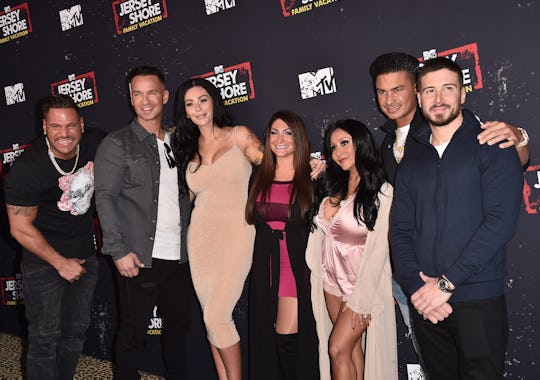 Alberto E. Rodriguez/Getty Images Entertainment/Getty Images
'Jersey Shore Family Vacation' Will Be A Little Different Than The Original Series
Not to be left out of the nostalgia TV trend, MTV is bringing back one of its most popular series and giving it a historic premiere event. The cast members of Jersey Shore will reunite for a reboot titled Jersey Shore Family Vacation, and for the first time ever, the network is giving a series a global time and date premiere. But fans may be wondering: how does Jersey Shore Family Vacation compare to the original series? For one thing, the series premiere is getting a huge rollout. The global time and date premiere means that Jersey Shore Family Vacation's first episode will air at the exact same time on MTV networks across the globe, so we can all experience this momentous occasion together.
The main difference between the two shows is, of course, that Family Vacation took place over a month-long vacation at a beach house in Miami. The original Jersey Shore took place at a beach house in Seaside Heights, New Jersey, with the exception of one season when the cast spent the summer vacationing in Florence, Italy. But worry not; according to E! News, the Miami house still has an iconic smoosh room. Although since only one of the cast members is currently single, it's not exactly clear how much action it'll see. (Snooki suggested that they turn it into a play room, and with the six kids total amongst the cast members, that may not be a bad idea.)
Another big difference is that one cast member is conspicuously missing from the bunch. Samantha Giancola, better known as "Sammi Sweetheart," opted not to participate in the reboot, and given the pretty intense scenes fans witnessed between her and on-again-off-again boyfriend Ronnie Ortiz-Magro (who will be on the show), it's not hard to understand why. In a statement posted to Instagram, Giancola wrote:
I have chosen not to join the show this season because I am at a completely different place in my life right now focusing on my businesses and relationship. I am not the same person as I was when I was 22. At 31, I am currently extremely happy in every aspect of my life and want to avoid potentially TOXIC SITUATIONS. However, it was a difficult decision as I love my roomies. I've decided to focus on me, my future, and what truly makes me happy. I will forever be grateful to Jersey Shore and everything it has brought to me! I've just decided to live my life for me these days. Also I am forever grateful & thankful for all of you!!! Special shout out to my fans, but I'm not going anywhere! Follow me and stay tuned you never know what I could be up to NEXT!
In an interview with E! News, her castmates supported her decision, saying they understood why she chose to sit out and making clear that they were "all still rooting for her." But the show has been picked up for a second season ahead of the first season's premiere, so it's always possible she could be reintroduced later.
Controversial and short-lived Jersey Shore cast member Angelina Pivarnick also makes an appearance in the Family Vacation trailer, but she doesn't appear to be too warmly received, nor is she an official cast member in the reboot. Ultimately, Jersey Shore Family Vacation looks like it'll be a warm and fuzzy throwback, plus a few kids, and perhaps with some more family-friendly partying (eg., hopefully, it'll depict the joys of hungover parenting). You can catch the series when it premieres on April 5.
Check out Romper's new video series, Romper's Doula Diaries:
Watch full episodes of Romper's Doula Diaries on Facebook Watch.