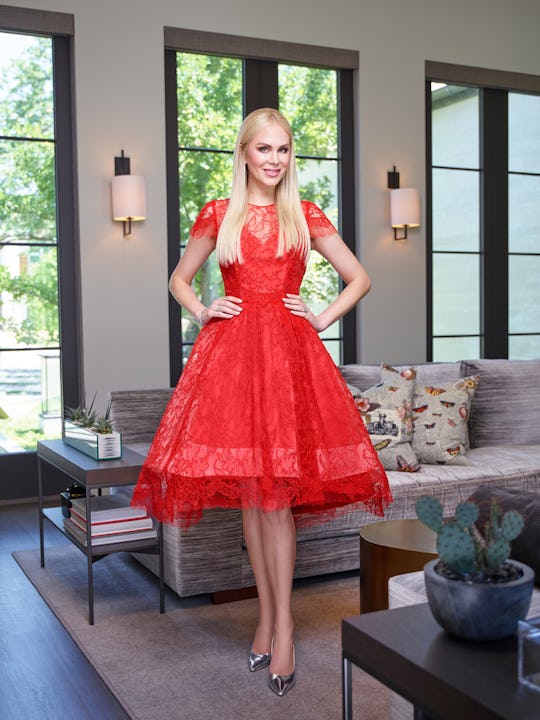 Tommy Garcia/Bravo
Here's How Kameron Westcott From 'RHOD' Makes Her Money
After getting to know the cast members' friendship dynamics and personal traumas over the first two seasons of Real Housewives of Dallas, it seems like Season 3 has been more focused on each of the women's entrepreneurial goals. Fans have seen LeeAnne in the early stages of marketing her magic dress, the launch of Brandi's resortwear line, and Kameron's challenges getting a distributor for her pink dog food line called Sparkle Dog. So how does Kameron Westcott make her money? The short answer is: by marrying into one of the wealthiest families in Dallas.
If you remember Season 2, then you know that Court Westcott, Kameron's husband, fronted his wife the money to get her dog food line off the ground. But without a distributor, he's unwilling to keep funding her venture. Unfortunately, he also isn't particularly enthusiastic about his wife having a side hustle, so, even though he financially supports her project, he doesn't seem to give her the emotional support or resources she needs to have time for the business. It's been one of their big fights for going on two seasons now, so one can only hope it's gotten better since then.
Kameron seems to be pretty understanding of the world she married into and she admits that it's going to take time to drag the Westcotts into the 21st century. She's remarked time and again that the role of "a Westcott woman" has always been to raise the Westcott children at home and maybe oversee some charity luncheons, but that's about it. As a matter of fact, Kameron does fulfill the philanthropic duties expected of her. According to her website:
Kameron is an 8 year active member of Cattle Barons Ball and 9 year active member of Junior League of Dallas, serves on the council for Texas Ballet Theatre, and is a member at large for New Friends New Life Board. In 2008 she was a style Ambassador for Diffa Dallas...In 2015 she chaired the TuTu Chic Luncheon benefitting Texas Ballet Theatre, and chaired March Of Dimes Signature Chefs Gala in 2016.
But despite performing the responsibilities that come with the perks of being a Westcott — and despite already having and utilizing a nanny — Kameron still finds herself criticized by her family for wanting to have a career, too.
In multiple scenes, Court appears manipulating their two small kids into guilting Kameron for taking time away to work. Of course, it's possible that the kids genuinely miss her and that this has been mischaracterized by editing, but the whole thing still felt super gross to me. Moms are allowed to have boundaries around their own time, too!
It's a bummer to see because the Westcotts actually have the resources to make sure their kids are generously nurtured while Kameron works on her passion project. But it doesn't look like she has a lot of support from her husband in juggling work and parenting. Ugh. Real Housewives of Dallas fans have seen change in husbands before (see: Brandi and Stephanie's spouses), so there does seem to be hope for Court. Let's just hope that after watching the show he learns to change his tune and offer his wife some much-needed backup.