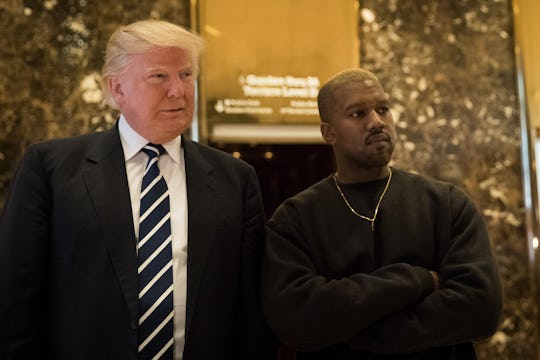 Drew Angerer/Getty Images News/Getty Images
How Does Kanye West Know Donald Trump? West Was Spotted At Trump Tower
Over the past few weeks, Donald Trump has been meeting with prospective candidates to fill up his Cabinet. And in an odd turn of events on Tuesday morning, Kanye West showed up at Trump Tower in New York City reportedly to meet with the president-elect, although it's not clear what they discussed. But the possibilities are bountiful, as the 39-year-old rapper has been a vocal Trump supporter recently after he famously announced last month at one of his concerts that had he voted in the 2016 election, Trump would have been his choice. The famous designer has also vowed to run for president himself in the next election in 2020. But, this reported meet-up may have some asking: How does Kanye West know Trump?
TMZ reported that West was scheduled to have "a 15-minute sit down" with Trump, which was reportedly requested by the Life of Pablo star, and the president-elect agreed to meet with him. Business Insider's political editor Oliver Darcy also reported that Trump spokesperson Hope Hicks confirmed that the pair did in fact meet on Tuesday, but did not address what they may have discussed.
One possibility? Perhaps they talked about who will perform at Trump's inauguration next month, as The New York Daily News reported that there has been a lot of speculation in recent days about this topic.
As for their relationship? After their meeting wrapped up, Trump told reporters in the lobby of Trump Tower that he and West are "just friends" and have "been friends for a long time," adding that the rapper is "a good man." And when he was asked about what they discussed, Trump said they talked about "life," according to CNN.
West, on the other hand, refused to answer questions about why he was meeting with the soon-to-be commander-in-chief and if he is considering performing at Trump's inauguration, or running for president himself in 2020. He simply said, "I just want to take a picture right now."
Although West and his wife, Kim Kardashian, had attended a private fundraiser for Trump's former Democratic rival Hillary Clinton and taken selfies with her, Trump has praised West in the past. After last year's MTV Video Music Awards when West declared his plans to run for president in 2020, Trump said, "Kanye West, I love him," according to NBC News.
"You know what? I will never say bad about him, you know why? Because he loves Trump!" Trump said last year after the rapper announced his presidential ambitions, according to NBC News. "He goes around saying Trump is my all-time hero. He says it to everybody. So, Kanye West, I love him."
And for West's part during a mid-concert 25-minute political rant last month, and nearly a year after Trump spoke highly of him, the "Famous" artist said, "If I would've voted, I would've voted [for] Trump," saying that he enjoyed Trump's campaign style.
It's still not clear why Trump and West met on Tuesday morning, but their reported meet-up certainly shook up the political conversation, changing the topic of discussion to something other than the president-elect's unconventional Cabinet picks. Whatever the reason, anything goes with these two.