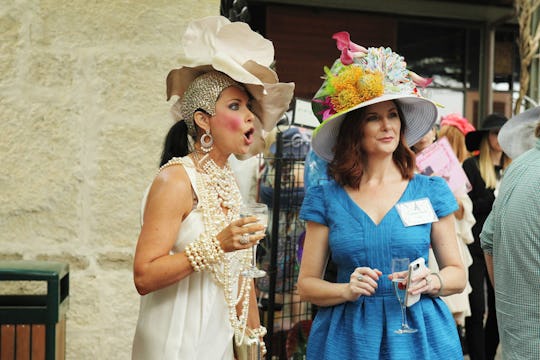 Bill Matlock/Bravo
How Does LeeAnne Locken Of 'Real Housewives' Know So Much About Charity? She's A Pro At It
We're only a few episodes into the Real Housewives of Dallas, and the women's roles and rivalries have already been established. So far, it's obvious that Brandi Redmond and LeeAnne Locken are not going to be friends this season, and if they are, then that clearly means that LeeAnne has gotten over the poop hat incident. So far, LeeAnne's major mission for the show seems to be to teach Brandi, Stephanie, and Cary how, precisely, a lady should behave in society and at charity events. But what makes her such an expert? How exactly does LeeAnne Locken know so much about charity on Real Housewives?
From what I can tell, it's because she has made it her life. In the first episode, Cary wryly observed that she thinks charity work is LeeAnne's actual job. In every article, and every bio, it is clear that LeeAnne is extremely present in the charity scene. D Magazine wrote, "You can't miss her at an event: she's either emceeing the thing or competing for an unofficial most glitz and glam award with Steve Kemble." And she certainly acts as if she knows all there is to know about the Dallas charity world. She continually chastises Brandi, Stephanie, and Cary for their lack of proper social etiquette at these events. She's disgusted at Brandi and Stephanie's poop jokes, and highly offended by Brandi's impression of her at Cary's trunk show, leading to the show's first ever showdown, in which Brandi says LeeAnne needs help, and LeeAnne responds "That's so sweet of you."
The confrontation transcends shade, and it transcends passive aggression. It is the most perfect expression of dislike in a language unique to Southern women and it is simply beautiful. The rivalry is cemented by the second episode at the Mad Hatter event, in which Brandi makes her own hat out of moss and plastic dog doo. The girls then put the fake poop on LeeAnne's chair because this is exactly the thing that will make LeeAnne's blood boil, which it does.
According to LeeAnne, this sort of behavior is inappropriate and disrespectful. To all the women who spent thousands of dollars on their hats, it was akin to a slap in the face. This is not how you behave at a charity event, LeeAnne opines, authoritatively.
But Cary isn't buying it. Cary isn't the first to question the authenticity of LeeAnne's charitable involvement. Brandi accuses LeeAnne of attention grabbing at an AIDs event, in which LeeAnne spoke about her own life, not the women she was supposed to be helping. Cary also says that LeeAnne's reactions to the silly behavior is overblown. Her trunk show was casual, and there was no need to behave stuffily. The Mad Hatter event is supposed to be fun and silly, and Brandi was in line with the theme. Tiffany, for her part, has defended LeeAnne's charity work as genuine.
So is LeeAnne Locken the charity world etiquette she claims to be? Hopefully we'll learn more about how she started in upcoming episodes!