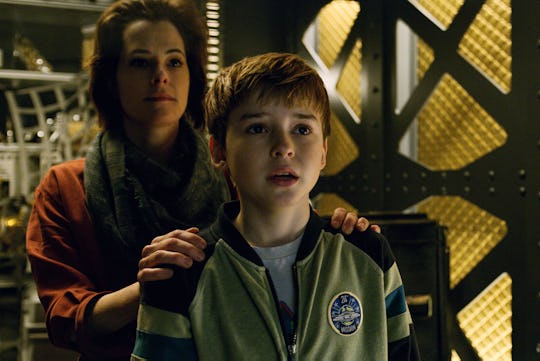 Netflix
Why Fans Of The Original 'Lost In Space' Should Watch The Netflix Reboot
Lost in Space started as a television series in the mid-sixties about a space-traveling family who faces countless adventures after their ship is thrown off course. It has since been reinvented for Netflix as a very different show set to premiere on April 13. But how does Netflix's Lost in Space compare to the original?
The characters and the premise might be the same, but that doesn't mean they're interpreted in the same way. Just like in the original show, Netflix's Lost in Space is about the Robinson family looking for somewhere to settle after an incident sends them in an unexpected direction. The original was a series typical of its time period, with some silly costumes and corny touches, as well as a robot pal that wouldn't have looked totally out of place on The Jetsons. The 1960s show took inspiration from the 1812 novel The Swiss Family Robinson, starting off as a comic series called Space Family Robinson before being adapted for television.
The Netflix reboot shares a lot of the same details, but the tone is very different in its official trailer. It looks like it's been updated, with a modernized and more streamlined aesthetic. But don't worry, it still seems to be a family-centric show about discovering the unknown, with all the joy and danger that comes with that.
Lead actor Toby Stephens, who plays the Robinson family patriarch, discussed the updates to the series with Collider. He talked about the history of Lost in Space, as well as how it evolved for Netflix, saying:
It's a very clever, modern reworking of a great story. Lost in Space is Swiss Family Robinson in space, so it was a story that existed before Lost in Space. The fundamental story is that it's a family that is lost in a difficult, life-threatening situation and how it challenges them and brings them closer together. That is essentially what the story of this is, it's just the context is a lot more modern. It's a more modern take on the '60s version. If you look at it now, it's charming, but it seems so innocent. Whereas this is a version that is for our time. I'm hoping it will still have humor and humanity in it, but it has obviously gotta be for a modern audience.
Screenwriter Matt Sazama elaborated on the new interpretation of the series when talking to Space.com. He explained that one important aspect carried over from the original show was how well the family worked together. They were brought closer by the many obstacles they overcame. Sazama also mentioned the increased realism of the series now that there's so much more information available about space and science than there was in the 1960s. Sazama said:
One of the keys is the sense of realism. Building this environment will excite people and bring a real ability to make the Robinson family all the more compelling.
Many of the differences between the two version of the show sound purely cosmetic, but there have been a few notable changes. The stowaway of the original was a man named Dr. Zachary Smith, played by Jonathan Harris; now the character is a woman played by Parker Posey. The dynamics of the family have also been shaken up a little for increased tension, but based on Sazama's statements it seems like they'll find a way to get past all their issues.
Showrunner Zack Estrin assured Entertainment Weekly that the reboot would "maintain the core of what was special" about the original show, but it would also find its own identity. Fans new and old can discover something to like about Netflix's Lost in Space.
Check out Romper's new video series, Romper's Doula Diaries:
Watch full episodes of Romper's Doula Diaries on Facebook Watch.