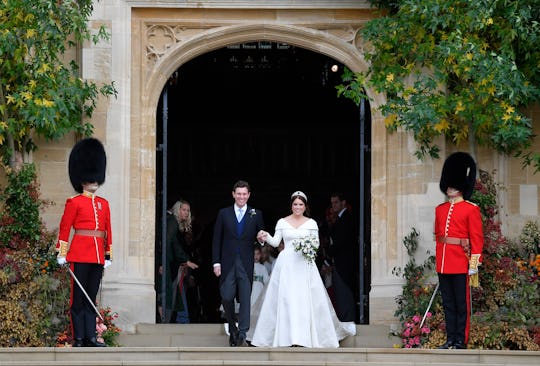 WPA Pool/Getty Images Entertainment/Getty Images
The Beautiful Way Princess Eugenie's Wedding Dress Celebrated Her Scars
Here comes the bride! Princess Eugenie tied the knot with her fiancé Jack Brooksbank and it looks like all of England showed up for the festivities. Along with witnessing true love, there was the excitement surrounding the bride's wedding gown. While it was certainly glamorous, compared to Kate Middleton's dress, Eugenie's dress was a bit unique.
Eugenie underwent what has been described as "life-changing" back surgery when she was 12 years old to correct scoliosis, according to the Daily Mail, and opted to show her scar in her wedding gown. The dress wasn't entirely backless — she is a royal, after all — but it did dip low enough for the scar to show. The Princess explained her reason for choosing that style of dress, saying "I think you can change the way beauty is, and you can show people your scars and I think it's really special to stand up for that."
The dress isn't the only thing at Eugenie's wedding that recalls her surgery. According to The Mirror, she invited her surgeon, Dr. Jan Lehovsky, and some of the other hospital staff to attend the festivities. Considering the impact that the surgery had on Eugenie's life, it isn't surprising that it played into her big day.
Fans of the royal family will remember Kate Middleton's head-turning wedding gown created by Sarah Burton at Alexander McQueen — the same label who made the bright pink dress that she wore to Princess Eugenie's ceremony, according to Harper's Bazaar. Like Eugenie, Kate put a lot of thought into her dress. She reportedly worked closely with her designer to make the dress of her dreams.
Kensington Palace released a statement on the day of Kate and William's wedding that provided some insight into Middleton's choice of designer:
Miss Middleton chose British brand Alexander McQueen for the beauty of its craftsmanship and its respect for traditional workmanship and the technical construction of clothing. Miss Middleton wished for her dress to combine tradition and modernity with the artistic vision that characterizes Alexander McQueen's work.
Eugenie, too, was involved in the design process, according to People. The gown was designed by Peter Pilotto and Christopher De Vos of the British clothing label Peter Pilotto. In line with the label's overall style, her dress had a folded neckline, flowing train, and the low back that Eugenie requested.
The back of Middleton's gown had a lot more to it than Eugenie's (it was lace), but the two royal brides did have similar trains. Both were long, elegant, and seriously beautiful. Kate's dress train was a whopping 9-feet-long, as Town & Country reported. I have yet to read an actual measurement of Eugenie's, but I have no doubt that it will measure up. In fact, long trains seem to be a requirement when it comes to royal wedding gowns. Princess Diana's wedding gown had a train that was 25-feet-long, according to Elle.
Along with long trains, both Kate and Eugenie had a number of special touches in the gowns. Middleton's dress featured a hidden silk underskirt that was meant to resemble an opening flower, according to Good Housekeeping, as well as a collar and sleeves that inspired by past royals. The lace of her dress included hand-sewn flowers and shamrocks. Eugenie included shamrocks in her look as well, drawing on her maternal lineage, according to People. Additionally, she rocked a thistle for Scotland, the York Rose, and ivy meant to represent the couple's home.
Royal wedding guest dress code protocol protects the bride from being upstaged, but I don't think there was much risk of that for Princess Eugenie. Her bold low-cut back and numerous special touches made her dress a jaw-dropper. What a beautiful bride she was.