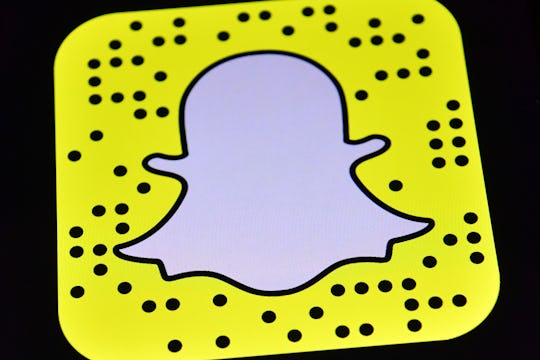 Carl Court/Getty Images News/Getty Images
Snapchat Update Will Let Users Search Millions Of Stories
You'll probably need to budget a little extra time for your daily social media usage, because Snapchat has just unveiled a search engine that will likely change the way you use the app forever. Users can now explore stories — a collection of photos and videos a user has posted throughout the day — from around the world based on simple keywords or topics. So instead of only seeing your best friend's snap of her sushi night out, you could also stumble upon a videos from a sushi chef in Japan. Sounds incredible, right? But, how does Snapchat's search stories function work exactly?
It's pretty simple actually. As Quartz reported, the app's new search function will operate pretty much like to Facebook's, meaning that when you search for something on the social media site — like "puppies" or "pizza" — you'll come across anything from photos, videos, news, brands and pages, as well as posts from friends all about that topic. And on Snapchat, if you were to search those same topics, you'll now find every story and account relevant to them.
The new search function hasn't completely rolled out yet though. According to the app, at the moment it's only available to "Snapchatters in certain areas" in the United States and it plans on expanding to other regions soon, although it did not mention which areas have been granted access to the new feature or when they expect to expand. For many at the moment, the search function can only be used for finding other accounts, but that should all change soon.
Once the new search function is available for all users, finding the stories you want to see is pretty straightforward:
Open Snapchat and tap on "Search" at the top of the screen.
Search a topic — something simple, like "tacos" or "Disneyland" — just like you would on Google, Facebook, or Instagram.
Sift through the results and find new stories to watch from around the world.
If you're more of a visual person, watch this tutorial video to get a better idea of how it works:
As CNBC reported, Snapchat's search update is "a win-win" for the company as "it may help the company keep and attract new users who can't get that option elsewhere, like on Facebook or Instagram" and "it opens up a whole new area for generating fresh ad revenue."
In return, Snapchat users will soon be able to search (and watch, if they please) millions of stories — as if cute dog filters and silly voice changers weren't enough to keep us glued to the app for hours on end.