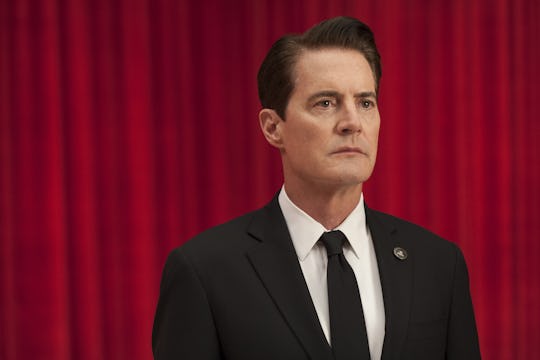 Suzanne Tenner/Showtime
How The 'Twin Peaks' Revival Connects To The Original
Twin Peaks has been off the air for 26 years, but if the current media landscape has taught its audiences anything, it's that it's never too late to revisit an old favorite. The cult classic will be returning to Showtime for 18 more episodes starting on May 21, but many of its fans may be wondering just how the original series will link up to the revival. Is it a continuation? Something entirely new? How does the Twin Peaks revival connect to the original?
While series creator David Lynch hasn't been free with the spoilers, there are a few guarantees about the brand new episodes of Twin Peaks. Kyle MacLachlan will be back as FBI agent Dale Cooper and he's not the only member of the original cast returning: Sherilyn Fenn, Madchen Amick, and Dana Ashbrook will also be back, among many others. But there will also be new additions like Naomi Watts, Michael Cera, Jennifer Jason Leigh, and Tim Roth, proving the familiar world will be populated with new characters as well.
It also looks like the upcoming episodes might answer some questions fans had since the show went off the air. Showtime's president and CEO David Nevins promised Twin Peaks would be delving into mysteries left unsolved in the original. "What I think is satisfying about the new version is that it's a deeper exploration of that stuff," Nevins told Entertainment Weekly. "What is the Red Room? How does the Red Room work? Where is Agent Cooper? Can he make it back?"
The original series left off on a cliffhanger that could be resolved when the show returns, but there's also no way to know for sure. While the subtle hints about the new episodes make it seem like the show will continue where Season 2 ended, it would be silly to expect a linear narrative from Lynch. There are sure to be things about the new episodes that are familiar (like the cast, the setting, the visual style, and the themes), but just as many things that aren't.
When asked by Rolling Stone what audiences should know going into the new episodes, Lynch said, "Absolutely nothing." The recent resurgence of revivals and reboots is about creating something that's new and old at once, and there's probably no one who could handle such a strange dichotomy as well as Davis Lynch. The upcoming 18 episodes will be connected to the original Twin Peaks because it's the same universe, but other than that it's all up for grabs.