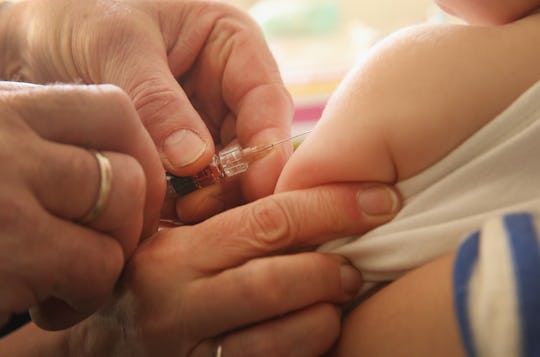 Sean Gallup/Getty Images News/Getty Images
This Year's Flu Vaccine Isn't Effective For Everyone, & Here's What That Means For Your Family
The flu season has already started this year, and early indications suggest that it might be more intense than last year's flu season, according to NBC. Unfortunately, the flu vaccine may only be 10 percent effective in preventing the illness here in the United States this fall and winter, based on early results of the flu vaccine in Australia. Though the shot's effectiveness this season may fall short of its usual numbers, experts say it's still a good idea for some people to consider getting it anyway.
According to a report in The New England Journal of Medicine, this year's flu vaccine might only be about 10 percent effective against influenza A (H3N2). The journal noted that the vaccine for this upcoming flu season here in the Northern Hemisphere has the same composition as the one used in the Southern Hemisphere. And while that doesn't prove it will definitely have the same, limited effectiveness here, that's a likely outcome, so the numbers in Australia are causing alarm for experts here.
Unfortunately, Australia has seen record-high numbers of influenza cases and higher-than-average numbers of hospitalizations and deaths so far, so clearly the flu vaccine is not as effective as anticipated. But experts say a vaccine that isn't incredibly effective can still reduce the severity of the flu, Fox 8 Cleveland reported. That could matter when it comes to protecting especially vulnerable populations — like pregnant women, young kids, immunocompromised people, and the elderly — this flu season.
In February, researchers meet at the World Health Organization to identify three or four strains of the influenza virus they believe will infect folks in the Northern Hemisphere, based on information about what made people sick in the Southern Hemisphere's during its most recent flu season, according to Quartz. That strategy usually results in effective coverage from the flu for most vaccine recipients about 40 to 60 percent of the time, which is nothing to scoff at.
But since the makeup of the viruses can change quickly, researchers can only guess at what specific changes or mutations will happen next. The authors of The New England Journal of Medicine piece theorized that the lowered effectiveness against this year's main flu strain may be in part because of mutation, but also partly because of a complication with antibody serums that are used to make the vaccine fit for people to use, Quartz reported.
But even if the vaccine for this year's flu season might not be as effective as hoped for, it might still be important for parents to consider having their small children get it. Other vulnerable populations like the elderly might want to talk to their doctors and consider receiving the vaccine, too.
Because while seasonal influenza viruses can affect people in any age group, the highest risk of complications occur among children aged 6–59 months and the elderly, as well as pregnant women, and individuals with specific chronic medical conditions like HIV/AIDS, asthma, and chronic heart or lung diseases, according to WHO. Health care workers are also at risk.
Even a less effective vaccine can reduce the severity of the flu, so getting the vaccine is still the best protection against it, Messenger Post Media/The Daily Messenger reported. Since children are at a higher risk of having a more severe reaction, parents might want to talk to their pediatricians about having their kids get this year's flu vaccine, even if its effectiveness rate falls short of expectations.
According to the United States Centers for Disease Control and Prevention, an estimated 5 million flu illnesses were prevented by flu vaccination during the 2015-2016 season. That was a different vaccination, of course, but any number of flu illnesses that can be prevented in kids who are especially vulnerable to the worst effects of the flu is a good thing.
If the severity of the flu can be lessened, even with a less effective flu shot, that's an important factor for any parent to consider. If you're unsure about whether your child should get the flu vaccine this season, talk to your doctor.
Check out Romper's new video series, Romper's Doula Diaries:
Watch full episodes of Romper's Doula Diaries on Facebook Watch.