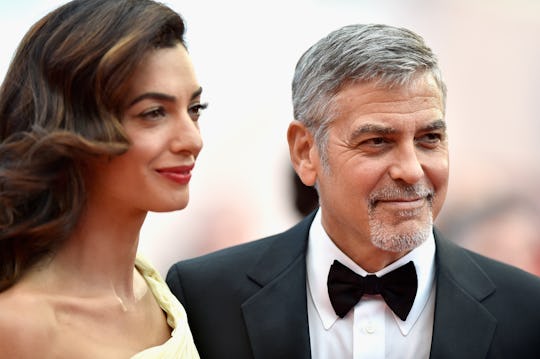 Pascal Le Segretain/Getty Images Entertainment/Getty Images
How Far Along Is Amal Clooney?
For the power couple that is George and Amal Clooney, even pregnancy is a turbocharged affair. The legendary actor and prominent human rights lawyer are expecting twins, host Julie Chen of The Talk revealed on Thursday. The announcement set off a round of well wishes and congratulations, of course, mingled with anticipation as to when the world will get to meet the two babies. Luckily, we do have a pretty good idea about how far along Amal Clooney is, based on the approximate due date Chen clued the audience in on. Romper has reached out to representatives for both George and Amal Clooney but has not yet heard back.
"Beyoncé is not the only superstar expecting twins," Chen told the daytime program's audience. "Congratulations are in order for George and Amal Clooney!"
It's an exciting announcement, but not one that's particularly shocking to fans of the 55-year-old Clooney and his 39-year-old wife. Speculation that the couple was getting to grow their family began swirling for weeks (or maybe even months), and really took off when Amal Clooney appeared to have a pregnancy bump when she attended a Netflix film screening in London last month, TMZ reported. At the time, she opted for a loose-fitting floral dress, so the gossip remained just that — idle, unconfirmed chitchat.
But now fans know that she is pregnant, and we have some details, too. Chen said that the babies are expected to arrive sometime in June, according to Us Weekly, meaning that the activist is about four or five months into her pregnancy. But the more interesting tidbit is that, reportedly, the twins are a boy and a girl, as The Times of London reported, citing unnamed sources who described themselves as friends of the pair shortly before Chen confirmed that they are, in fact, expecting.
The revelation that the Clooneys will soon double the size of their family represents a total 180 in outlook on George's part. "I don't expect to ever get married again or have children," he said in an interview in 2008, according to NPR affiliate WVXU. "I am never at home and every woman gets sick of it ... If I was them, I would never put up with me for long — and they don't."
The Ocean's Eleven actor was married once before, from 1989 to 1993, before tying the knot with Amal Clooney in a September 2014 ceremony in Italy. Perhaps he didn't think he wanted kids before he married his current wife — but it's hard to believe he's not now looking forward to June.