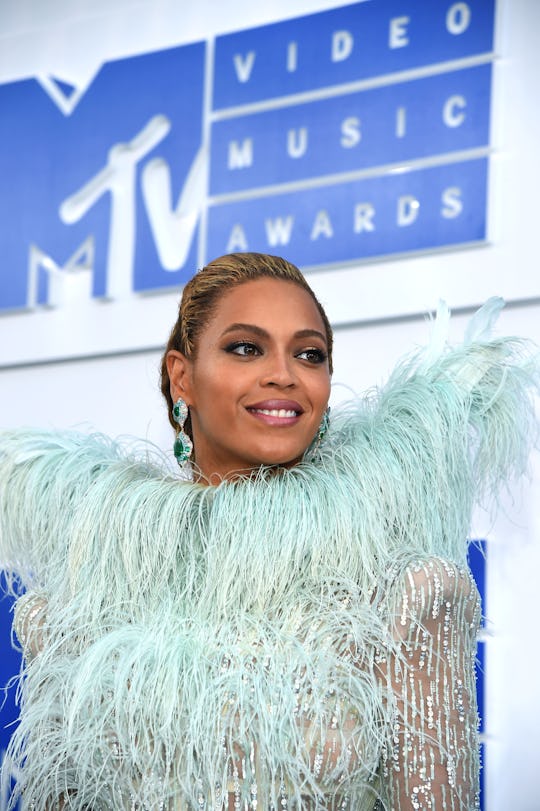 Larry Busacca/Getty Images Entertainment/Getty Images
Beyoncé's Due Date Remains A Mystery
2016 was rough and 2017 has only proven to be even rougher, but Beyoncé literally stepped in to turn it all around for us with her Instagram announcement that she is pregnant with twins. As plenty of folks on Twitter have pointed out, this is possibly the greatest way to kick off Black History Month known to (wo)man, but as the news spreads, many fans are wondering: how far along is Beyoncé in her pregnancy? While we don't have a definitive answer to that question, we can surmise a few things from the evidence we do have.
She took to Instagram to announce the pregnancy, cradling her bump while wearing a dramatic veil over a maroon bra and ruffled powder blue satin panties. Posed in front of a massive wreath on a bed of greenery, the photo is almost as stunning as the news itself. Her caption read:
We would like to share our love and happiness. We have been blessed two times over. We are incredibly grateful that our family will be growing by two, and we thank you for your well wishes. - The Carters
The post racked up 3 million likes inside of an hour, and the Beyhive quickly assembled to try and decode any clues as to how long she's managed to keep it under wraps.
The most recent images of Beyoncé are from about 12 weeks ago, when she accompanied her sister Solange to NBC Studios in New York for her Nov. 5 Saturday Night Live debut. She was wearing a pretty strategically complicated outfit, but really, you can't make out much of a bump from the images. Another photo of Beyoncé tweeted out by the Hillary Clinton campaign from that same weekend showed her in jeans with a tucked-in tee, and she didn't look particularly pregnant in that one either.
While Bey waited until she was about 5 months along to announce that she was pregnant with Blue Ivy back in 2011, it looks like she's much earlier in her pregnancy this time. Assuming she waited out the customary first trimester before announcing, and considering that women, on average, begin to show around 12 to 16 weeks during their second trimester, we can assume Bey is somewhere between three and four months pregnant. That would put her due date sometime around the end of July or beginning of August. But don't think that's slowing Bey down. She's slated to headline Coachella in two months, at which point she will likely be carrying quite heavily. Early reports indicate that Coachella execs didn't know Beyoncé was pregnant when they booked her, but there's no word yet as to whether or not they plan to drop her from the lineup as a result. But honestly, that doesn't seem likely. Nobody puts Bey in a corner.