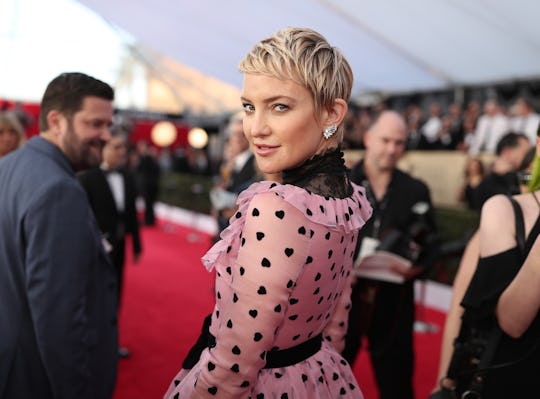 Christopher Polk/Getty Images Entertainment/Getty Images
Kate Hudson Is "Dangerously Close" To Giving Birth To Her Baby Girl
When Kate Hudson first announced that she's pregnant with her third child (her first daughter!), fans were pretty surprised, but so thrilled for the actress and her boyfriend, Danny Fujikawa. But that was all the way back in April. So, people must be wondering: How far along is Kate Hudson now and when is her baby girl expected to arrive?
Hudson has not come out and announced her exact due date, and that's certainly understandable. There are some details celebrities just want to keep to themselves, and knowing the exact moment (more or less) that they're going to give birth is definitely one of those things. Because of this, everything people "know" about Hudson's due date is pretty speculative.
But rest assured, Hudson is due to give birth very soon — at least, that's what her friends Sara and Erin Foster told Us Weekly earlier this month. Hudson is "dangerously close to giving birth," the Foster sisters told Us Weekly on Sept. 6. This is one source that can definitely be trusted because they're super close friends to Hudson and Fujikawa is their step brother, according to E! News.
Going off of their statement, Hudson could be weeks or even days away from giving birth, which means she is anywhere from eight to nine months along in her pregnancy and in her third trimester, according to Page Six. And based on her most recent photo of her bump on Instagram, she looks like she is more than ready for her baby girl to arrive.
Another way to tell Hudson is set to give birth really soon? The fact that she and Fujikawa documented themselves prepping their daughters nursery together earlier this week, according to People. On Tuesday, the couple tried on their baby carrier, set up the baby's bassinet, and picked out wallpaper for the nursery, according to People. By taking the day to set these things up, it can only mean one thing — their baby is about to be sleeping in that bassinet and baby carrier very soon.
Not to mention, Hudson and Fujikawa already reportedly have their baby's name picked out, according to Us Weekly. "They have their baby names," Sara Foster told Us Weekly. "Well, she has an idea."
This means that Hudson and Fujikawa are more than prepped for their daughter's arrival and should be good to go when Hudson goes in to labor, whenever that might be.
Hudson's due date is something that has been highly speculated. In June, Us Weekly reported that Hudson was due in August, and was taking time off of work for the summer until then. But August has already come and gone.
And while fans are highly anticipating the birth of Hudson's daughter, Hudson and Fujikawa are just as excited. In August, a source told People that Hudson was super happy to be a mom for a third time. "Kate is very much ready to meet her baby girl. She had an amazing summer with a lot of traveling. She enjoyed herself a lot. She is ready to slow down and is anxiously waiting for her little girl," the source said.
And Hudson herself told People that she is excited to no longer be "outnumbered" by her two sons, 14-year-old Ryder and 7-year-old Bingham. "I look forward to having feminine energy," Hudson said.
Hudson will have that feminine energy in her home very soon and it sounds like she is more than ready to welcome her with open arms. And if you're wondering when that will be, be sure to keep a close eye on Hudson's social media accounts, because an important announcement might be on there very soon.