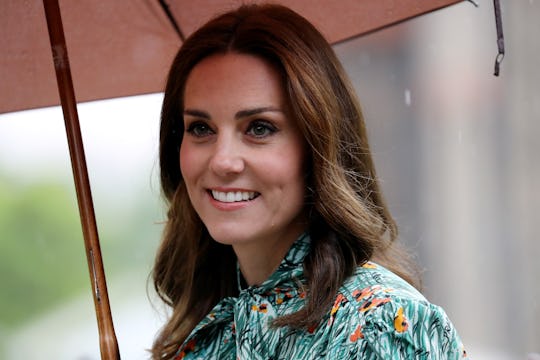 Chris Jackson/Getty Images Entertainment/Getty Images
Here's How Far Along Kate Middleton Is With Baby No. 3
Hear ye, hear ye, a new royal baby is on the way! On Monday, Kensington Palace announced that Prince William and Duchess Kate will soon be adding to their family. Naturally, fans want to know everything, including one of the biggest mysteries: how far along is Kate Middleton? (A.K.A., when are fans getting some sweet baby pics?) While there's no official announcement of Middleton's due date yet, certain clues can help narrow it down. So let's get to Sherlock-ing.
In the official statement announcing the pregnancy, Kensington Palace mentioned that the Duchess of Cambridge is suffering from hyperemesis gravidarum, a form of extreme morning sickness that can cause severe nausea and vomiting (sometimes, according to the U.K.'s National Health Services, up to 50 times a day). It's not Middleton's first go-round with this particularly icky side effect. Unfortunately, she also experienced it when she was pregnant with Prince George, age 4, and Princess Charlotte, age 2, even having to go to the hospital. Both times, Kensington Palace ended up announcing her pregnancy earlier than they otherwise would have, and according to Peter Hunt, the BBC's royal correspondent, this time is no different.
Often, expectant moms wait until at least the 12 week mark to announce their pregnancies, but as the effects of hyperemesis gravidarum are usually pretty bad before that, it seems possible that Middleton has not yet reached the three month milestone.
And indeed, Naomi Smith, Secretary to the Communications Secretary, Household Office of The Duke and Duchess of Cambridge and Prince Harry confirmed that timing to Romper in an email, writing,
The Duchess's pregnancy has not yet passed the 12-week point and we would not be in a position to guide any further for reasons of privacy.
But for fans hoping to get a rough idea about what month the newest royal might enter the world, looking at the patterns from Middleton's past pregnancies could provide a useful gauge. When Middleton was pregnant with Charlotte, the official announcement came on September 8, 2014, and Middleton gave birth on May 2, 2015. With George, the announcement came on December 3, 2012, and Middleton gave birth on July 22, 2013. Using the timing from both those pregnancies as a guide, it seems like Middleton could be due sometime in late April or early May.
Back in July, the Duke and Duchess made waves on a visit to Poland, when a fan gave them a gift for a newborn, and Middleton reportedly joked about adding to their family, saying, "We will just have to have more babies." If she's got a late April due date, looks like it wasn't quite a silly joke after all, but that she and her husband pretty quickly took the comment to heart.
Congratulations to the royal family!