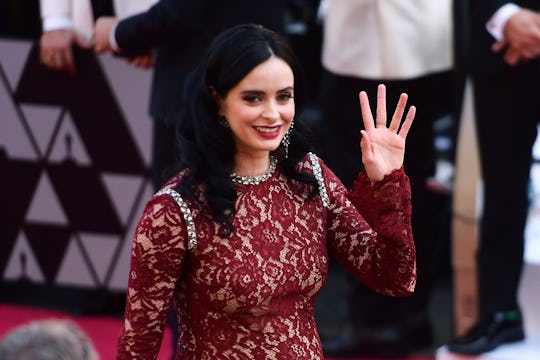 Matt Winkelmeyer/Getty Images Entertainment/Getty Images
Krysten Ritter Shared The Most Adorable Bump Photo Weeks After Her Pregnancy Reveal
In today's installment of "celebrities whose pregnancies we're irrationally excited about," it's all about everyone's favorite Jessica Jones star, who just recently announced, at the 2019 Oscars, that she's expecting. So, as it's been a few weeks, people are likely wondering how far along Krysten Ritter is now. Though she hasn't revealed an exact due date, the actress just shared an adorable new update.
On Instagram on Wednesday, Ritter shared a photo of herself wearing a cute, new dress, because TBH, if the 'gram isn't for updating others when we find an amazing new wardrobe staple, what else is it for? (Maybe sharing pictures of our açai bowls, but that's a story for another day.) "New dress and ready to rock," Ritter wrote on the snap of her posing in the mirror, wearing a fitted black and white polka dot frock with a ruffled bottom and cap sleeves.
The update comes mere weeks after Ritter serendipitously announced her pregnancy in the most epic way of all: a red carpet reveal. She uploaded photos of herself attending this year's Oscars, as Marie Claire reported, and simply shared: "Surprise!" In the photos, her growing stomach is visible through a red ballgown, and fans were quick to both share their surprise and elation for the actress.
However, given that Ritter has been tight-lipped about the whole ordeal, it's hard to say exactly how far she is along.
Judging only by the fact that most women — and women who are in the public eye, especially — wait until they are at least out of their first trimester to make the announcement, according to BabyCenter, it seems safe to assume she is most likely that far along. That could mean, as of March, she might be about four or so months along.
But anything beyond that is speculative, right now. Sure, we might be able to try to gauge from the size of her stomach, but the truth is that all women carry differently, and one woman can look six months along at three months, and another can look three months along at six. Visuals aren't the most reliable — or fair, or polite — way to assess when someone could be due, so it's better to just stick to being super excited and trust that Ritter will share more information when she feels like it.
Given that she and her husband remained mum about the pregnancy for a while, her announcement post was met with joy, surprise, and total happiness for the couple.
"UM WHAT???!? How am I just now finding out about this? I am so unbelievably happy for you!! You are my favveeee," one comment read.
"Jessica Jones is pregnant. Now they can make a young avengers movie," another joked. (But seriously, hot tip to producers, that's a great idea.)
Though Ritter was likewise coy about her marriage to musician Adam Granduciel, the couple has been together for just under half a decade. Us Weekly reported that before they were walking the Oscars red carpet together, the couple was first spotted together back in 2014. They reportedly met when Ritter went to see some of Granduciel's shows, according to Us Weekly; she liked the music, and continued to return. Eventually, the pair connected.
On social media, Ritter has acknowledged her husband a handful of times, mostly just to celebrate birthdays and anniversaries — you know, the special stuff.
"Happy bday to the coolest dude I know. Love you, man," Ritter wrote on an Instagram photo of the couple this year. In another, similar shot (apparently they like to take pictures in cars) Ritter celebrated their anniversary this past summer sharing: "Happy Anniversary to us! Four years baby! 🎉🎉🎉🎉 Mikey and me love you so so so much.@thewarondrugs."
With their five year anniversary coming up and a new addition to the family likely arriving sometime in that period, too, it's certainly a happy time for the new couple, and everyone is undoubtedly wishing them the best.