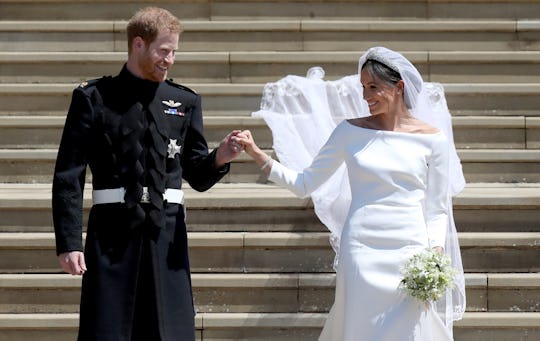 WPA Pool/Getty Images Entertainment/Getty Images
Here's How Far Along Meghan Markle *Probably* Is
The world has waited with baited breath for another royal baby the moment Prince Harry announced his engagement to Meghan Markle. Well world, wait no more: The Duke and Duchess of Sussex are expecting their first child. According to Kensington Palace, the royal couple are expecting a Spring 2019 baby, so how far along is Meghan Markle? Without an exact due date it's difficult to know for sure (and even those due dates are more like highly educated guesses than set-in-stone fact), but us commoners can do what we do best: guess.
According to a statement from Kensington Palace, released via Twitter, the couple will welcome their first baby in the spring of next year. "Their Royal Highnesses The Duke and Duchess of Sussex are very pleased to announce that The Duchess of Sussex is expecting a baby in the Spring of 2019. Their Royal Highnesses have appreciated all of the support they have received from people around the world since their wedding in May and are delighted to be able to share this happy news with the public."
If Markle is due in the spring, it would put her around three or four months pregnant — and most likely Markle got pregnant in June or July, a month or two after the couple married.
And according to People, a "royal source" has confirmed that Markle recently had her 12-week ultrasound scan and is "feeling well," so three months pregnant it is! For the uninitiated, the 12-week ultrasound scan confirms the gestational age of the fetus (i.e. how many weeks a woman is pregnant) and gives the mom-to-be and partner their first look at what *looks* like a baby. This is also when a fetus's organs begin to grow, according to Parents, can swallow, and even gets the hiccups.
During the couple's post-engagement interview, Harry discussed the possibility of starting a family and seemed, well, extremely excited about the notion of becoming a father in the very near future. "Of course, one step at a time and hopefully we'll start a family in the near future," he said, according to InStyle. So it shouldn't come as a surprise that the couple is preparing to welcome a new baby next year. Surprise or not, however, it sure is exciting news and now the #RoyalBabyWatch is officially on.
The couple is expected to embark on their first overseas royal engagement to Australia, according to Kensington Palace, so it's great that Markle is feeling well. And we can all be sure to hear more news, more speculation, and more details about the future royal baby. But until then, congratulations are definitely in order.