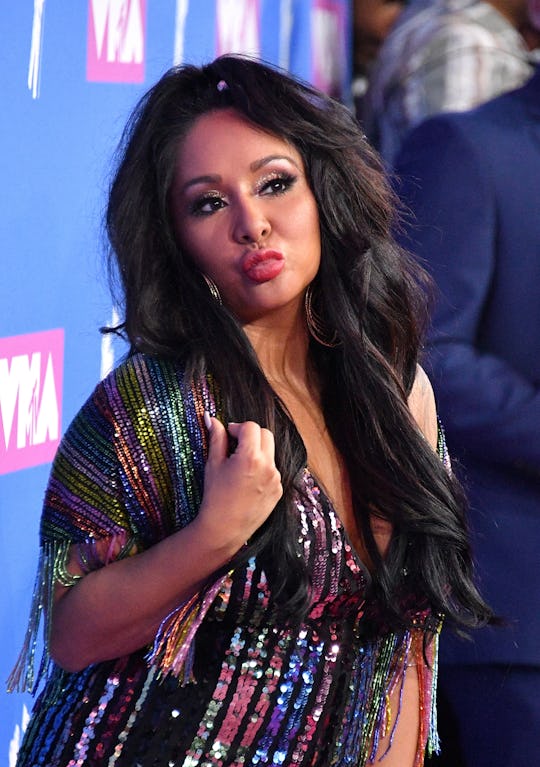 Dia Dipasupil/Getty Images Entertainment/Getty Images
Here's When Nicole "Snooki" Polizzi Could Welcome Her Third Meatball
There's a lot of baby news circulating in the Jersey Shore world as of late, between Deena Cortese nearing the ned of her first pregnancy, and now Nicole "Snooki" Polizzi's happy news. With so much happening, fans may be wondering how far along Snooki is right now. The reality star, who mostly goes by Nicole now, announced that she's pregnant with her third child last week.
On Nov. 22, Polizzi finally shared with followers that, after months of trying, she and her husband are pregnant with their third child, E! News reported. Polizzi decided to make the important announcement on Thanksgiving, as she uploaded a photo of her son and daughter holding a framed image of her sonogram. "What I'm thankful for this Thanksgiving," she wrote in the caption, before adding the hashtag "family."
Immediately, fans began wishing Polizzi and her family the best, congratulating them on the new addition. "Congratulations @snooki I'm so happy for you and your growing family baby boy or girl is going to be beautiful just like big brother and sister mommy and daddy," one follower wrote. "Congratulations woo hoo I'm so happy for you guys," said another.
Of course, as Polizzi didn't say when she is due, there's no way to know for sure exactly how far along she is, though there are a handful of clues that can help place it.
First of all, it's unlikely that Polizzi is still in her first trimester, as most moms wait at least three months to announce their pregnancies, and that's often especially the case if you're a public figure. Women do this as it's most common to experience a miscarriage within the first few months of conceiving, and there's pretty much nothing more heartbreaking then having to make a public announcement sharing that you're no longer pregnant — so for good measure and peace of mind, most moms will wait.
With all that said, if she followed this logic, then Polizzi's due date may be in the spring, perhaps in late May or early June.
Otherwise, it's impossible to say whether or not she's even farther along than that. Fans do know, for example, that she and her husband Jionni LaValle have been trying to conceive for a while. For example, while on Jersey Shore Family Vacation, Polizzi and her BFF Jenni "JWoww" Farley went to go take a pregnancy test.
"I never throw up, even when I was little. I'm like, 'OK, me and Jionni are trying to have a baby; maybe I'm pregnant. I feel weird right now. I didn't eat anything to make me sick, so why am I throwing up now?" People reported Polizzi said on the show. "I want to take a pregnancy test. I just need to know because if I'm pregnant, I'm not going to keep drinking. If I'm not, then f—k it. I'm going to be upset and let's go take shots at the club."
However, Polizzi was not pregnant at the time. Once the test came back positive, People reported Polizzi said: "It's no. I'm not pregnant. I'm so annoyed. I'm just old and I can't f—ing hang anymore."
However, the story does have a happy ending as Polizzi did eventually conceive, and it's clear that she loves being a mom. And, over the last few years, it's become clear that Polizzi is as much of a great mom as she has remained true to herself, and it will be exciting to see her family grow once again.
This first-time mom wants to have a home birth, but is she ready? Watch how a doula supports a military mom who's determined to have a home birth in Episode One of Romper's Doula Diaries, Season Two, below. Visit Bustle Digital Group's YouTube page for the next three episodes, launching every Monday starting November 26.