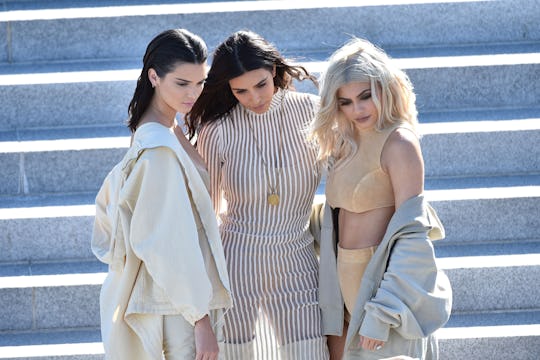 Bryan Bedder/Getty Images Entertainment/Getty Images
Cousins Stormi & Chicago Are Super Close In Age
Having a big family can be wonderful: the Kardashians are proof of that. It's been a long time since the family first appeared on E! and now they're having babies of their own, including Kim and Kylie's daughters who were born at almost the exact same time. So, how far apart in age are Stormi and Chicago? The KarJenners planned it perfectly.
It turns out that Stormi is two weeks younger than Chicago. Chicago was born on January 15, while Stormi was born on February 1. The public knew Chicago was coming long before Stormi, however. Kim Kardashian West used a surrogate for her third child and didn't shy away from talking about why. She wrote on her website shortly after Chicago was born, "I have always been really honest about my struggles with pregnancy. Preeclampsia and placenta accreta are high-risk conditions, so when I wanted to have a third baby, doctors said that it wasn't safe for my — or the baby's — health to carry on my own." Indeed, Kim had high-risk pregnancies for both her other children, North and Saint. She said that for baby number 3, she and husband Kanye West explored other options.
She clarified that while she said "surrogate," Chicago is biologically her and Kanye's child. She said, "although I have used the term surrogate in the past, a gestational carrier is actually the technical term for a woman who carries a baby that she has no biological relationship to. A traditional surrogate donates her egg, is artificially inseminated with the father's sperm and then carries the baby to term. Since we implanted my fertilized egg in our gestational carrier, our baby is biologically mine and Kanye's."
Kylie, as everyone now knows, kept her pregnancy a secret until Stormi was born. She said she wanted to keep this part of her life private, which is completely understandable; everything else in her life is public to the extreme (she has 115 million Instagram followers to back me up). When Stormi was born, Kylie issued an apology to her fans on social media. "I'm sorry for keeping you in the dark through all the assumptions. I understand you're used to me bringing you along on all my journeys," she said. "My pregnancy was one I chose not to do in front of the world. I knew for myself I needed to prepare for this role of a lifetime in the most positive, stress free, and healthy way I knew how." Kylie also posted an 11-minute documentary about Stormi's pregnancy several days after she was born. It's called "To Our Daughter" — but 74 million other people watched it for good measure.
Now that Stormi is born, Kylie still chooses to keep her off her Instagram for the most part. She discusses her and motherhood in interviews — such as when Kim interviewed Kylie for the Evening Standard — but she doesn't post Stormi nearly as much as she posts herself, which is a conscious choice. Furthermore, this season of Keeping Up With The Kardashians documents Kylie's pregnancy as well. In a recent episode, Kim called Kylie's pregnancy "the best kept secret of our generation."
Kylie told her sister, " I'm not trying to keep a secret, I'm really doing this for myself." Regardless, Kim was right: it was an amazingly-held secret. While the way they came into the world was different, Chicago and Stormi are now very close cousins. Their other cousin, Khloé's daughter True Thompson, was born in April, so the next generation of KarJenners are already in place. Fans can see more of Kylie's pregnancy on Keeping Up With The Kardashians, and they can see more of their favorite family on their own social media profiles.