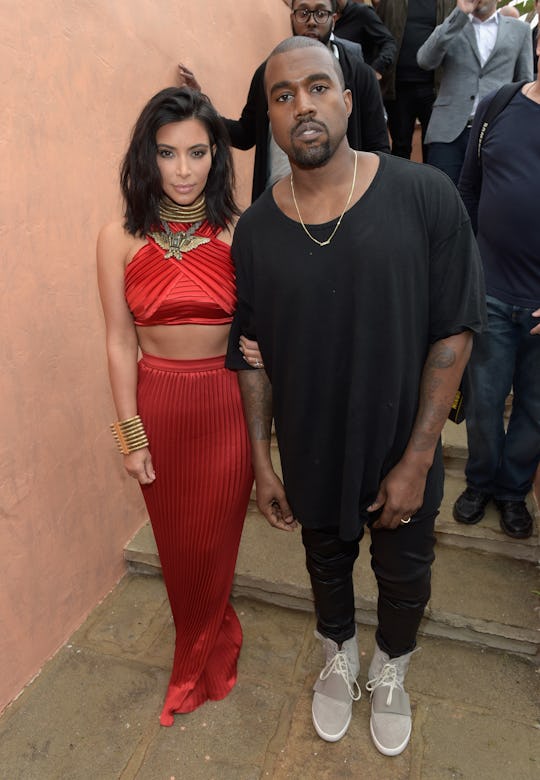 Jason Kempin/Getty Images Entertainment/Getty Images
How Fast Did Baby Yeezy Boosts Sell Out? It Didn't Take Long
The long and anxiously awaited Yeezy Boost 350 shoes for infants definitely lived up to the hype when they were finally released on Saturday in select Adidas stores and online. They were expected to sell out quickly, but how fast did the Yeezy Boost 350 sell out? It didn't take long for stock to run dry of the sneakers for infants and toddlers designed by Kanye West and Adidas. But, how long exactly? Less than two hours after going on sale on Adidas.com, they sold out.
It was expected that the Yeezy Boost 350 Infant would draw a lot of attention to the Adidas website, so in an effort to make accessibility as fair as possible for everyone, customers were placed into a virtual queue on the site and then were randomly given access to the product page to buy the shoes. But, getting to that point still wasn't a confirmed, done deal.
"To make the Yeezy Boost 350 Infant release as fair as possible, we will randomly allow people access to the product page," the company wrote on the website. "Once on the page you will be able to check if there is still availability of your size and color, then you maybe begin to purchase."
Still, the purchase wouldn't totally be finalized until the check out was completed and a confirmation email was sent.
Two hours into the official release, the baby Boosts sold out and Adidas asked hopeful customers to check with local retailers for their availability or to sign up to be placed on a mailing list for a future release date.
Select retailers around the globe reportedly also had access to the baby moccasin-style sneakers, which were offering customers a similar system as the website by entering them into a raffle system for a chance to get their hands on a pair of the latest Yeezy release.
But, don't lose all hope if you weren't lucky enough on Saturday. Fashion forward parents can snag a pair for a hefty price. On Ebay some are reselling them for as high as $500. And on Fight Club, one of the top reseller sites, baby Boosts were already running a steep price $1,250 for the pirate black style and whopping $2,000 for the turtle dove.
Indeed, these rates are a bit higher than the original $130 retail price.
It's not known yet when the next release of the Yeezy Boost 350 Infant will be. But, perhaps by the time the next shipment hits stores, the next Yeezy trend will have already come and gone.
In the meantime, however, parents and kids who couldn't get their hands on the tiny sneakers can live vicariously through famous family and friends of Kanye West, like Kourtney Kardashian and Chrissy Teigen, as they show off the little kicks on their little ones.