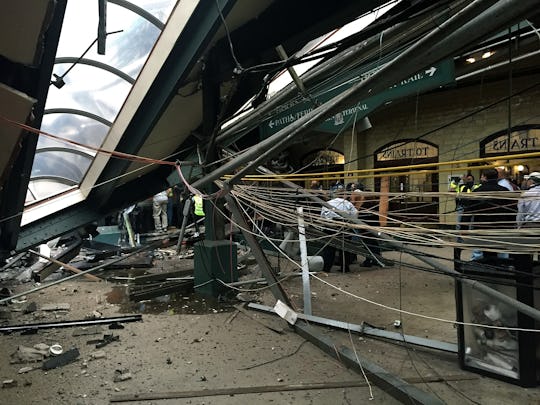 Pancho Bernasconi/Getty Images News/Getty Images
How Fast Was The NJ Transit Train To Hoboken Going? The Crash Caused Many Injuries
On a gloomy Thursday morning, a NJ Transit train crashed into the Hoboken terminal, injuring many and killing at least one person. There are still a lot of questions surrounding the incident, mostly surrounding how something like this could have happened. One question — how fast was the NJ Transit train to Hoboken going when it crashed? — is definitely one question in the forefront of many minds, considering its speed is a potential determinant in the tragedy caused. (NJ Transit was not answering questions at the time of publication.)
There has not been an official statement regarding the exact speed of the train that has said to have injured "more than 100" people, according to NY Daily News. With that said, Fox News reports that NJ Transit spokeswoman Jennifer Nelson did say she did not know the speed of the train at the time of the crash. There are reports coming out that certain the train seemed to be moving at "full speed." According to Fox News, "social media users who say they were on the train say it was moving at a high rate of speed," which has yet to be confirmed by NJ Transit officials, but is certainly alarming to think about the destruction that can (and has) come from a fast-moving train crash. As for right now, the scene of the incident is incredibly tragic, to say the least.
While nothing can be confirmed until the NJ Transit (and first responders) are able to speak about the actual incident, social media has voiced its concern regarding the speed at which the train was reportedly moving.
ABC News reports that the train was carrying 250 people, and seemed to not be slowing down while approaching the station. Corey Futterman told ABC News, "We were approaching Hoboken and the train did not seem to be slowing down whatsoever and then all of a sudden everything just crashed and shook."
Interestingly enough, in 2015 the NJ Transit speeds were looked into, which gives insight on how fast these vehicles should be moving. NJ.com reports that there is a "60 mph recommended for trains passing through stations," according to a NJ Transit safety worker.
According to NBC News, preliminary reports suggest that the crash was "accidental or caused by operator error," which comes from five law enforcement officials, although it is important to keep in mind that the primary focus right now is to help those involved, as the investigation is still in its early stages.