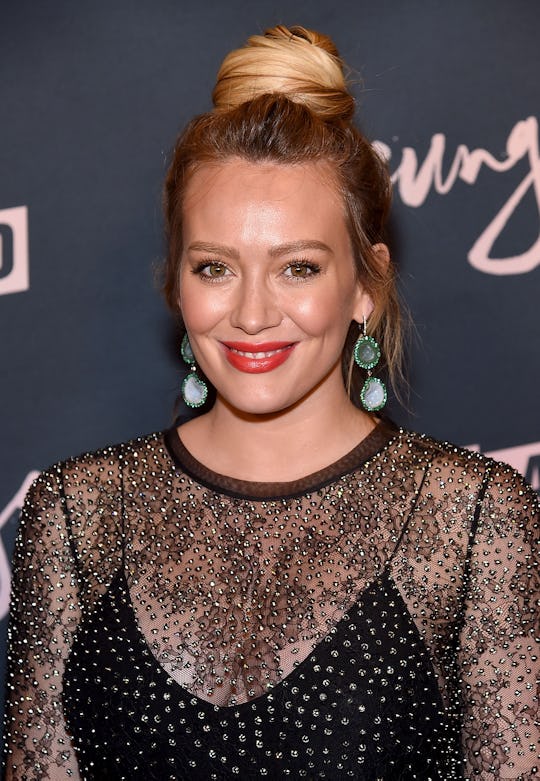 Jamie McCarthy/Getty Images Entertainment/Getty Images
Hilary Duff Revealed The Gross, But Totally Funny Way She Pranks Her Son Luca
You know how you can just tell when someone is an amazing mom? It's never how perfectly orchestrated the holiday photos are, or how organic every single weeknight dinner is, or how few tantrums your child can throw while in the aisles of Target for the second time that week. No, amazing parenting is really more about involvement and engagement, and how Hilary Duff pranks her son Luca is the perfect example.
Duff — who recently gave birth to her second child, a daughter named Banks, whom she shares with her boyfriend Matthew Koma, as Parents reported — has made it a point to ensure that her 6-year-old son, Luca, doesn't feel left out. (It is notoriously hard to introduce a new baby into a family with older kids, as any parent of more than one child can attest). However, Duff seems to be handling it with a great sense of humor, and of course, a lot of perspective.
In an interview with People, Duff explained: "Well… Everything has been flipped upside down... Everyone in the household is obsessed with her, but you forget the demands of a newborn! It's nonstop, and there basically can never be enough hands, but if they're nursing, all a baby ever needs is her mom!"
She went on to say that while she was concerned about how Luca would adjust, everything has gone pretty well so far... and the family is up to their usual sweet antics.
"Honestly, I thought it was going to be a huge adjustment, but he kind of acts like she's always been here. It's really sweet!" she told People. "One of his favorite things is skin-to-skin before bath time, and he loves to pinch her cheeks — which is funny because he hated when anyone did that to him. I think he finds her edible."
She added in the same interview, "My favorite thing to do with him … [is] chase him around with dirty diapers."
It's not the first time Duff has shared a funny anecdote between her two kids. In an interview with James Corden back in June — just days after announcing her pregnancy to the world — Duff opened up about how after consulting Luca for what his future sister's name should be, he came up with something pretty creative.
"We're up for any kind of suggestions, but Luca thinks Cafont Croissant is, like, the coolest name," she said, according to Us Weekly. "When I just refer it as 'Cafont,' and I'm like, 'That would be so cool, nobody at school's gonna be named Cafont.' He's like, 'Croissant. Cafont Croissant'... It, like, goes together, there's no separating the two."
A few week after Banks was born, on Nov. 17, Duff, Koma, Luca and she all posed for a family photo on the front step of their house, Entertainment Tonight reported. True to form, they made it super silly, with everyone but little Banks making funny expressions. Luca and Duff are seen sticking their tongues out, Koma is looking on, and of course, baby Banks is sleeping through the whole thing. "Banks... you gotta try harder," Duff captioned the hilariously perfect family pic.
It's beyond clear that the family is as hilarious as they are adorable, and we're sure we can assume this is only the beginning of their antics together.
This first-time mom wants to have a home birth, but is she ready? Watch how a doula supports a military mom who's determined to have a home birth in Episode One of Romper's Doula Diaries, Season Two, below. Visit Bustle Digital Group's YouTube page for the next three episodes, launching Mondays in December.