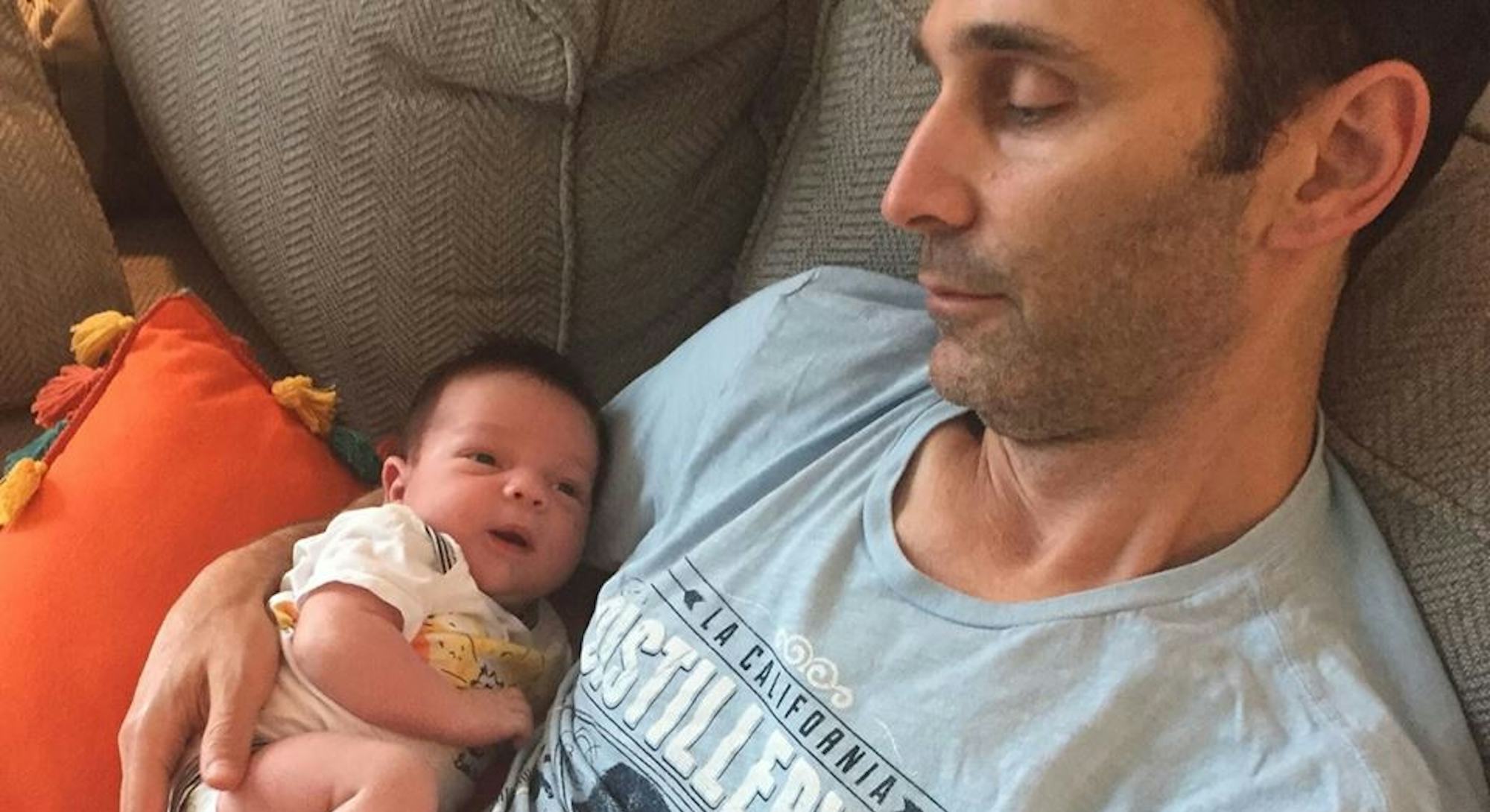 Courtesy of Tom Garden
I'm Straight. I'm Single. And I'm A Stay-At-Home Dad.
Father's Day conjures images of the sitcom dad with a wife and 2.5 kids, always headed out the door to work. However, the reality of fatherhood is rapidly changing — and Tom Garden is just one example. Garden is a Minnesota businessman turned full-time father. After spending a decade married to his work, he sold his successful foreign language translation business. At 45, he went searching for meaning beyond work, and found it in fatherhood, via gestational surrogacy. He's now a single, stay-at-home dad to a baby boy named Joseph.
Our culture has long encouraged us to believe that only women experience an existential yearning for children, so it's easy to assume that single dads wind up filling the role of primary caregivers by accident alone. However, an increasing number of men like Garden are finding tremendous value in single fatherhood. According to Pew, single dads head 8 percent of American households. In 2011, 2.6 million fathers were raising their kids alone — a nine-fold increase from less than 300,000 in 1960. According to a 2014 article in The Atlantic, the increase in single dads stems not only from rising divorce rates, but also a shift in cultural attitudes toward the role of fathers. Fathers have tripled the time spent with their children since 1965, and courts are now far more likely to award custody to dads.
That said, Garden's path to parenthood requires a considerable investment of time, money, and energy, and single men who become parents via surrogacy don't undertake the journey lightly. Daniel J. Kaser, MD, of Reproductive Medicine Associates of New Jersey (RMANJ) told Romper that the initial process for single men and women is similar: all patients undergo extensive medical testing and a mental health screening.
This is Garden's journey to fatherhood, as told to Romper writer Kelly Mullen-McWilliams.
Before I had Joseph, I'd never held an infant before. He was born with a full head of hair, thicker than mine. It's hard to explain that moment, to relive it. It's like trying to explain the Grand Canyon at sunrise. I cried when the nurse handed him to me, and I don't think I've cried in 30 years.
When I brought him home, I didn't know how to feed him. I didn't know how to change a diaper. I didn't know how to raise him, and I was terrified to be alone with my kid. I'd lived in Israel with the army in the early 90s. Honestly, I thought preparing for a war was scary, but that was nothing compared to my fear of picking up Joseph.
After selling my business, I took a trip to Israel. I didn't realize how stressed out I was until I stopped working. For the last decade, one of my main priorities was how big I could grow my foreign translation company. I didn't think much about having a family. I was dating, having fun. . . Selling the business forced me to think about what's really important, and that's certainly not climbing the corporate ladder.
I rented an apartment in Tel Aviv, and one day I decided to go to Jerusalem. On the bus, lo and behold, I'm sitting next to my cousin Bryna, who I hadn't seen since I was 22.
It was a chance encounter that changed my life. "Do you have kids? A family?" she asked. I said no, I'm 45, I haven't met the right girl, it's probably too late, blah, blah blah . . . But this was a very important meeting, and I'll never forget what she told me.
"You're the last of the Garden males," she said. "If you don't have kids, your lineage, the Garden lineage, will die out."
Honestly, I thought preparing for a war in the Israeli army was scary, but that was nothing compared to my fear of picking up Joseph.
That was the turning point. A few months later I went back to Minnesota. I was online dating, but the women I met either already had kids and didn't want any more, or they were mid-40s and thought they were too old. I told my mom, "I really want to be a dad."
My mom told me about this surrogacy thing, which I knew nothing about. I found one clinic in Minnesota, but I was too embarrassed to call them. Thank God, my mom called for me, and found out all this information. I decided to keeping looking into it. Just to see what happened.
Because I'm Jewish, I wanted a Jewish egg donor because traditionally, Judaism is passed down matrilineally. But there were no Jewish egg donor clinics in the Midwest. I found an agency in New York that worked with Israeli donors, and the owner sent me a catalog of Israeli women with their profiles, their genetic histories.
It was so surreal, but I wanted to do it. And I wanted to do it in Minnesota, but the agency's owner recommended RMANJ, because they have very good patient outcomes. [According to Dr. Kaser, RMANJ's birth rate is over 65 percent per single embryo transfer.] I was lucky, because it all happened so quickly. Sometimes people wait years to find a surrogate, and then IVF doesn't always work. For me, it worked on the first try.
It was a whirlwind. I had to do genetic testing and psychological interviews. I had to fly out to New Jersey twice. It was just a heck of a process. There were actually two women involved. I thought the egg donor carried the child, but she doesn't. Another agency called Surrogate Steps helped me find Nicole, a wonderful woman living in Arkansas. I signed a contract with her, because she was the carrier of the baby, and she and her husband had to give up their parental rights.
It's very expensive, because no insurance will cover IVF. For me, it cost six figures, and all out of pocket. I paid for my surrogate's maternity care, although Nicole also had her own private insurance that covered some items. She lives in Arkansas, but we spoke every two days throughout the pregnancy, or at least every week, and she called whenever she had an OB/GYN appointment. She sent me pictures of the bump, and she sent me all the ultrasounds. One day Nicole sent a picture of herself seven-months pregnant, standing in front of a mirror with her shirt lifted up to her belly button. I thought, Oh my God, that's my son in there, and I was really petrified.
I've been asked if I'm gay. I want to stress that you can be a straight, single, unattached guy and still do IVF.
My mom said, "You have to hire a doula [to help with the newborn]." I'm like, doula? What the heck is a doula? It sounded like a mixed drink or something, you know?
But I learned what a doula was, and if it hadn't been for her, I don't think I'd even have picked up my kid, I was that petrified. Being in the army was a lot easier than taking care of a newborn, I can tell you that much. The doula stayed with me for a couple months around the clock after Joseph was born, while I built up my confidence, but I still don't know what I'm doing, really. My mom helps me, and thank God Nicole is there. I call her and she gives me advice on how to do things. Also, the doctors and nurses at RMANJ were wonderful. I want to mention that too because a lot of doctor-patient relationships are very impersonal these days. I
Today, Joseph is almost 12 months old, and I'm a full time, stay-at-home dad. I'm a single father, like I never thought I would be. If it weren't for IVF surrogacy, and if I hadn't sold my company, I'd still be that single guy, I'm pretty sure.
Not everyone understands. I have one relative who said, "Why can't you do this the normal way?" It sounds kind of corny, but I've just never met a woman that made my heart sing, at least recently. Maybe [Joseph wasn't conceived] the traditional way, and it's not something I thought I'd ever do, but who cares how it happened? There's no greater gift than to bring a life into the world, and to share in that life, and to give love to a child. Whether it's normal or not normal, it's a beautiful process.
There's a lot of misconceptions. I've been asked if I'm gay. I want to stress that you can be a straight, single, unattached guy and still do IVF. I mean, it's not very common, but I think it's a growing trend. I think there are other guys like me out there, that want to be fathers but haven't had that chance yet, and I want them to know this process is available. If you want to be a single dad, or a single mom, and have a child you should do it, not be afraid, and not be worried what people think.
I think back to the rat race of my company, and all that is so unimportant to me now. What's important is picking up my son, hearing him say dada. What's meaningful to me is being a father and a role model.
It's not all roses. When [Joseph's] up all night and you're sleep deprived, it's very challenging, but it's a wonderful challenge. I have to put his needs ahead of mine. Sometimes, that's not easy to do after 47 years. Another challenge I face? When I go out, all the changing tables are in women's bathrooms.
I think back to the rat race of my company, and all that is so unimportant to me now. What's important is picking up my son, hearing him say dada. What's meaningful to me is being a father and a role model.
I think a lot now about how nice it would be to have a partner here. It's so ironic, because when I was younger and dating in my 30s, if a woman had a child, I was less likely to want to take on that kind of responsibility. And now, I'm the old man at 47 with a kid, and they don't wanna date me. So it's just really hard. But I'm still waiting for the right person to come along, because it would be really great for Joseph to have a female figure besides Grandma in the picture. Somebody to just be with Joseph and me . . . you know, to have a family.
In Jewish tradition, you usually name your kid after somebody that's passed away, like a grandparent. I've lost two sisters in the last few years to cancer, sisters that were very young, and it's been really tragic. But I had a boy. I like Joseph, it's a name from the Bible. A strong, proud name. And he just seemed like a Joey.
If it weren't for IVF surrogacy, I'd still be that single guy, I'm pretty sure.
I come from a very small family. No cousins or relatives here in Minnesota. Since I lost my dad and my two sisters, I really want to have a big family, and I'd love to have three or four kids. So I'm going on this journey again in just a few weeks, and if it works, and I have a girl, I would name her after one of my sisters.
Last night, I was on the phone with Dr. Treiser, and I said, "Can you work your magic one more time?"
Edited and condensed by Kelly-Mullen McWilliams.