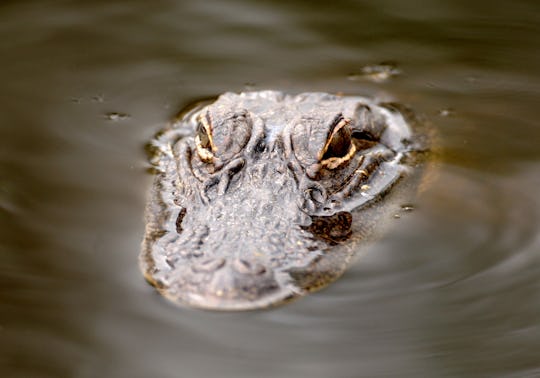 Al Messerschmidt/Getty Images Sport/Getty Images
How Is Disney Protecting People From Alligators? A Young Boy Was Snatched At A Resort
On Tuesday night, a 2-year-old boy was attacked by an alligator at Walt Disney World's Grand Floridian Resort, according to the Palm Beach Post. The child's father and a lifeguard gave chase but the boy was dragged into the water and has yet to be recovered. Now, guests are wondering what Disney can do to protect people from alligators. The Nebraska boy was reportedly playing with his father at the shore of the Seven Seas Lagoon, a manmade body of water on Disney property, around 9 p.m. Tuesday when he was attacked. Romper has reached out to Disney World for comment and will update once we receive a response.
Witnesses told the Post that the family was in a beach area, but that there were signs posted warning guests that the area was not for recreational swimming. According to Orlando's News 6, Florida Fish and Wildlife Conservation Commission officials have already removed four alligators from the lagoon and euthanized them, but none are believed to be the one who attacked the child. A search is still underway for both the child and the alligator, but officials aren't very hopeful. At a press conference on Wednesday morning, Orange County Sheriff Jerry Demings admitted, "The sad reality of it is it's been several hours and we're not likely going to recover a live body."
Alligators are very common in Florida, but attacks, particularly unprovoked attacks, are rare. CNN noted that this is only the second major alligator attack of 2016, and there were only nine in 2015. Demings said that this is the first such incident at Disney World, and there have been no recent reports of nuisance alligators in the area. Still, it would be easy for an alligator to gain access to the lagoon through connecting canals, as the presence of the other four clearly shows. "This is Florida, and it's not uncommon for alligators to be in bodies of water," Demings said, but of course tourists wouldn't necessarily know that.
Anecdotally, many Disney guests report alligator sightings, both in and out of the Seven Seas Lagoon, which is not fenced in. On Disney message boards, it's often claimed that Disney employees will monitor alligators on the property and relocate them when they reach a certain size, but those claims haven't been confirmed. Whether the alligators were a known issue or not, guests are now calling for Disney to do something more to protect them.