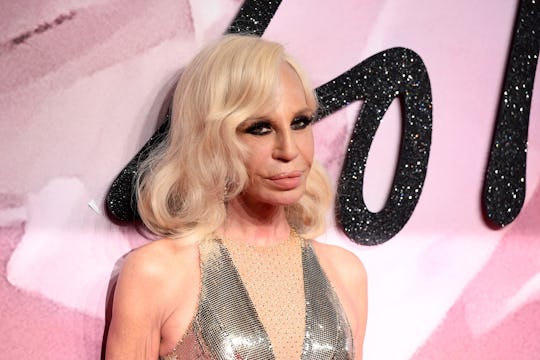 Stuart C. Wilson/Getty Images Entertainment/Getty Images
Here's How Donatella & Gianni Versace Are Related
The next installment of the American Crime Story anthology series is here and follows the story of Gianni Versace's assassination, which took place in 1997. Versace was the creator and founder of the Versace fashion brand that remains popular to this day, especially amongst the rich and famous. The current vice president of the company is Donetella Versace, but how is Donatella related to Gianni Versace, exactly? The two of them had a very special bond, but that can sometimes be common among siblings. You see, she's his younger sister.
On The Assassination of Gianni Versace, Donatella will be played by Oscar winner Penélope Cruz, who says she spoke to Donatella on the phone for an hour after being offered the role. "We spoke about a lot of things, about things she told me about her life," Cruz told Extra TV. "She also said, 'If somebody is going to play me, I am very happy that it is you,' and for me, if I wouldn't have heard those words, I wouldn't have done it."
But despite the interaction Cruz described, Donatella told Italian newspaper la Repubblica she won't be watching the series "because after all this time it still hurts to see Gianni represented untruthfully." Her words fall in line with the two statements the Versace family have made about the show.
On Jan. 8, the Versace family first released a statement saying they "neither authorized nor had any involvement whatsoever" with the new TV series. They also said it "should only be considered as a work of fiction." FX and 20th Century Fox then responded, defending the series, stating that the show was based on Maureen Orth's "heavily researched and authenticated non-fiction best-seller Vulgar Favors."
The book examined the life of Andrew Cunanan, the serial killer who shot and killed Versace before ending his own life. "We stand by the meticulous reporting of Ms. Orth," the statement concluded. On Jan. 10, the Versace family issued another statement, standing by what they had said previously and maintaining that the show, and book, are fictional:
The company producing the series claims it is relying on a book by Maureen Orth, but the Orth book itself is full of gossip and speculation. Orth never received any information from the Versace family and she has no basis to make claims about the intimate personal life of Gianni Versace or other family members. Instead, in her effort to create a sensational story, she presents second-hand hearsay that is full of contradictions.
They then went on to say, in the statement, that it was "sad and reprehensible" that the producers were using Orth's book for the basis of the show, and revealed that they would no longer comment on the situation.
But despite these remarks, executive producer Ryan Murphy continues to stand by the series as well as defend Orth's work. He told E! News that he didn't think it was "cool" for the Versace family to say Orth's book was just a work of fiction, and argued that the book has been "scrutinized and vetted for close to two decades" since it was released.
But regardless of where you stand on this issue, it is still worth a watch, if only to make up your own mind about the show. Along with Cruz, the series also stars Édgar Ramírez as Gianni Versace, Darren Criss as Cunanan, and Ricky Martin as Gianni's boyfriend of 15 years, Antonio D'Amico.
The Assassination of Gianni Versace: American Crime Story premieres Wednesday, Jan. 17 at 10 p.m. EST on FX. You won't want to miss it!
Check out Romper's new video series, Romper's Doula Diaries:
Watch full episodes of Romper's Doula Diaries on Facebook Watch.