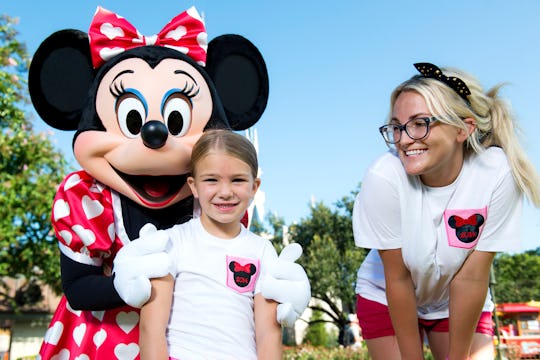 Handout/Getty Images Entertainment/Getty Images
Months After Her ATV Accident, Here's What Jamie Lynn Spears' Daughter Has Been Up To
You may remember a particularly frightening ATV accident earlier this year involving Jamie Lynn Spears' daughter. And if you're wondering how little Maddie is doing since then, she fortunately made a full recovery back in late February. Although she tends to stay out of the limelight, there have been a few updates on her condition since the accident and her reported recovery that let fans know that she is still doing just fine.
Maddie Alridge, who was a little more than 8 years old at the time, accidentally drove an ATV into a pond on her mother and stepfather's property in Kentwood, Louisiana on Feb. 5, according to Entertainment Tonight. She was reportedly steering the ATV to avoid driving over top of a drainage ditch and overcorrected, causing the vehicle to go into a nearby pond shortly before 3 p.m., Entertainment Tonight reported at the time.
Spears and other family members dove in and attempted to free Maddie from the safety belt and netting in the ATV to no avail. She was reportedly underwater for roughly two minutes and was then airlifted to Children's Hospital in New Orleans, where she was unconscious for two days, according to Us Weekly.
Maddie did eventually wake up and was released from the hospital on Feb. 10, the publication reported. And since then Spears has been providing fans with regular updates on Maddie, showing that she's doing well and is just enjoying being a kid.
Most recently, on Monday, Spears posted a photo to her Instagram of Maddie on her 9th birthday alongside the medical professionals credited with saving her life. She captioned the photo:
The hardest milestone me and my family have ever faced was almost losing our beautiful Maddie, but thanks to God and the two angels in this picture we were able to celebrate Maddie turning 9 years old all together. This milestone became a true miracle, and we are forever grateful for that.
Fortunately, Maddie has been on the mend ever since being released from the hospital. Spears posted to Instagram just a couple of weeks after Maddie's release to explain that she would be returning to work and that her daughter had "fully recovered," and had "returned to her normal activities," according to People. Maddie was even playing basketball with her team as early as Feb. 21, according to People.
About a month after the accident, Spears shared on Instagram that Maddie's cousin was being baptized and she was celebrating the fact that she hadn't lost her beloved daughter. She began the caption by saying:
A month ago, at this time, I was living a mothers/anyones [sic] worst nightmare happening right infront [sic] of my eyes, helplessly....Fastforward- Today, we were able to celebrate the baptism of our sweet Kylie Blair.
Spears went on to explain the love that she has felt from her community of followers and her faith since the accident and how that helped her get through such a tough time:
I'm not one to preach, but we were shown God's grace, and we still feel undeserving of His mercy. I'll never stop thanking each of you for your prayers, because we recognize the miracle it created. We are beyond blessed, and we will NEVER forget y'all, and God's unbelievable mercy
Not only was mom back to work within a month of the accident, but she was also taking Maddie to Disney World with her family. On March 13, Maddie — along with her aunt Britney Spears, cousins Jayden James Federline, Sean Preston Federline, and Lexie, and grandma Lynn Spears — toured the park and ate some seriously yummy looking snacks, according to E! News.
Spears and Maddie have been out and about quite a bit since the accident. In November, mom shared a photo of the two out at the New York City American Girl store opening event, looking happy and healthy.
Just last week she posted a sweet throwback photo of the two of them together and they were all smiles. Along with photos, Spears also posts videos of herself and Maddie, showing off her happy family. One such video compilation provides a heartfelt overview of how they spent their summer.
It looks like Maddie is also continuing with her sports. A video that Spears posted of the two of them dabbing and dancing shows Maddie in a soccer uniform and the caption mentions a soccer tournament.
Aside from photos and videos, there hasn't been much information released in recent months about how Maddie is doing post accident. But, considering how quickly she recovered and got back to life as usual, I think it is safe to say that she is still doing just fine and she seems happier than ever.
Check out Romper's new video series, Romper's Doula Diaries:
Watch full episodes of Romper's Doula Diaries on Facebook Watch.