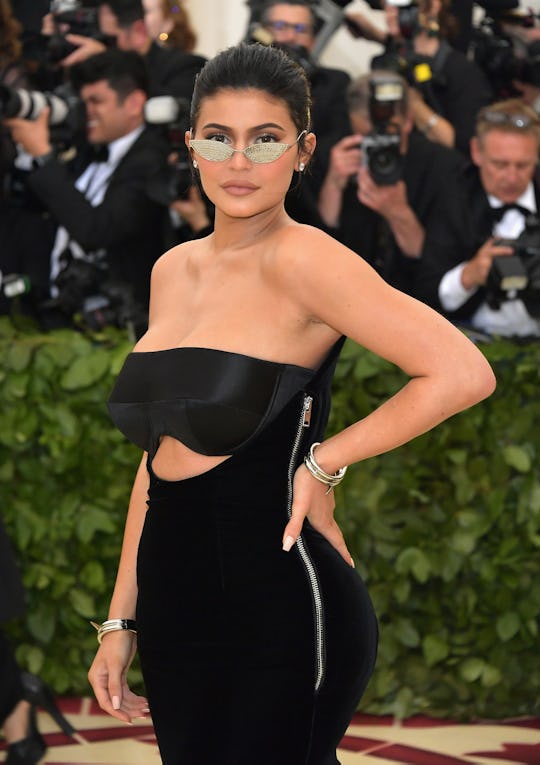 Neilson Barnard/Getty Images Entertainment/Getty Images
Kylie Jenner Is Celebrating Her 21st Birthday In The Most Kylie Jenner Way *Ever*
Grab the champagne — everyone's favorite makeup mogul is almost officially of drinking age and celebration is in order. Kylie Jenner is celebrating her 21st birthday in the most Kylie Jenner way possible: with a special birthday makeup collection and a ton of Instagram posts. Also, she's apparently living it up with four Kylie lookalikes in what looks like the pinkest pajama party ever.
Jenner doesn't turn 21 for reals until August 10, but she launched the Kylie Cosmetics 21st birthday collection a few days early. She commemorated the big day with a post to Instagram that was captioned, "PARTY TIME WITH MY GIRLS BECAUSE THE BIRTHDAY COLLECTION LAUNCHES IN 1 HOUR!" along with a couple of pink heart emojis. By her "girls," she is clearly talking about the four models who looks quite a bit like the birthday girl. The five of them are shown lounging around popping bottles, clad in lingerie and bodysuits. In other words, they are living out what I would imagine is on repeat in Elle Woods' head. But the party doesn't end there.
Along with living her best life, Jenner is also making the most of the unique marketing opportunity that is turning 21. She revealed an exciting new cosmetics collection via her Instagram story shortly before her big day.
In her story Jenner described the 21 Collection as her "most personal" yet. She also explained that while it isn't her first birthday collection, 21 has a special place in her heart, according to Harper's Bazaar:
I can't believe I'm about to 21. It's definitely the most personal collection that I've done. I hope you guys love it. My birthday collections are super special to me, because the first collection I ever did was for my 19th birthday, so this is going to be my third annual birthday collection. My birthdays are kind of what set off collections for me.
The packaging is part of what makes the collection so personal. It features numerous photos of a blonde Jenner on the boxes from a special birthday photoshoot and includes six new matte lip shades. The new colors are as follows: Rager (pink), Birthday Behavior (bright red), Glam (a brighter pink), August (nude), Rumor (blood red), and Flirtini (rose). Along with new lip shades, the special collection also includes a large eyeshadow palette with 21 new eyeshadow shades, which Harper's Bazaar reported as the most shades that she has ever released at once. There are lots of other goodies for Kylie Cosmetics junkies to enjoy as well.
In addition to her new line of cosmetics, Jenner also celebrated her upcoming birthday with a series of posts to Instagram including photos from a recent photoshoot and throwback pics from her childhood, according to Elle. The photoshoot pictures were taken by her long-time photographer Sasha Samsonova and are reportedly completely untouched film shots, Elle reported. The throwback photos show Jenner as a little girl bowling with Caitlyn Jenner and sporting some seriously adorable pigtails that you won't want to miss.
No news has been shared as of yet about how Jenner plans to spend her actual birthday, but I have no doubt that a big party has been planned. For her 19th birthday, she spent the day celebrating at the beach and on a boat with her family and posted lots of glamorous photos from the day, according to Teen Vogue, and her 21st will most likely be even bigger. When you consider the over-the-top first birthday that she has planned for baby Stormi months in advance, it's only logical to assume that a massive bash is on the books for her own 21st. Until then, fans have plenty to celebrate with the new 21 Collection already in stores. Happy birthday, Kylie!