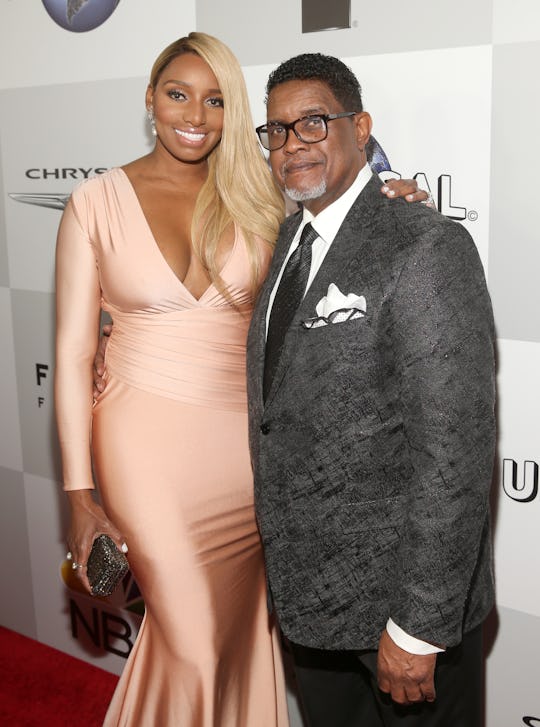 Jesse Grant/Getty Images Entertainment/Getty Images
Things Are Improving For 'RHOA' Star NeNe Leakes' Husband Gregg Following Cancer
On the November 4 Season 11 premiere of The Real Housewives of Atlanta, star NeNe Leakes had a lot going on: A new store named "Swaggalicious," an upcoming stand-up comedy gig in Miami, and, on a completely different note, a sick husband. She revealed on the show that Gregg had been diagnosed with stage 3 colon cancer. Talk about a sad note to kick things off. So how is NeNe Leakes' husband Gregg's health now?
Well, as of October 25, he appears to be in at least OK shape. Leakes posted a photo of herself and her man on Instagram that day, which she captioned: "Gregg says it's been a long time y'all but heyyyyyy #lifeoftheleakes."
Gregg was diagnosed with cancer in May (Cinco de Mayo, actually, as Leakes says on the show). Apparently, he was rushed to the hospital for sever abdominal pain, and had his colon removed in an emergency surgery. He then had a follow-up surgery in September, as Leakes shared on Instagram. It would appear that it was a success, as she hasn't spoken about another surgery in the months since.
Gregg previously suffered from an issue with his heart, which fans saw play out in Season 10. After suffering from chest pains, Gregg went to the hospital, where his heart rate was said to be "dangerously low." However, he recovered fully from the incident.
Though the cancerous organ was removed, Gregg's cancer is still a major topic of discussion, and likely will continue to be for much of the season. As anyone familiar with the disease knows, even when it's "gone," it's not always really gone for good.
"Right now he is trying to decide is he going to do chemo, is he not going to do chemo, that kind of thing. There's no cancer in his body. He did a PET scan about three weeks ago and it came back there was no cancer," Leakes said on The Daily Dish. "The doctors, of course, always say there are microscopic cancer cells that are floating around in your bloodstream. So you need to do something to prevent it from coming back permanently. So he has to decide if he wants to do holistic or he wants to do the whole chemo thing."
Leakes has been keeping it together while handling her other business as usual. Last month, she shared an image on Instagram with the words "Cancer has changed out lives but God [prayer emoji hands]." She accompanied it with a caption describing how the disease has changed her, her life, and her marriage "tremendously." She noted that while she has, of course, struggled, Gregg has "felt isolate from the rest of the world, mad, sad, [and] depressed."
But it really does appear as though things are turning around for the Leakes family. And her ladies have been right by her side the entire time. Fellow cast member Cynthia Bailey and friend Marlo Hampton got a special shoutout on Leakes' Instagram for all of their help following Gregg's surgery in September. If things keep going this way, the Leakes' are definitely on the upswing, in health and in life. We'll have to see how everything plays out this season.