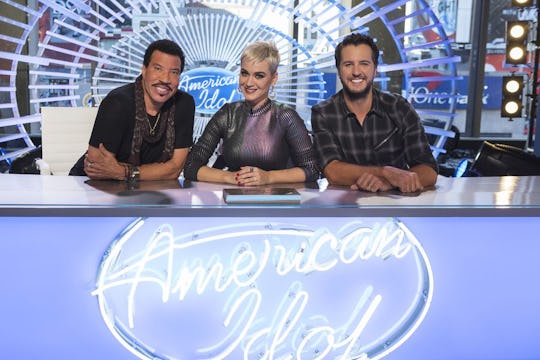 Eric Liebowitz/ABC
How Will The New 'American Idol' Compare To The Original? Fans Can Expect A Few Changes
American Idol is returning to television on ABC starting this Sunday, March 11. It hasn't been gone for long, but fans are sure to be glad it's back. But like any rebooted property, there are likely going to be some tweaks to the classic formula that make it something new. So how is the American Idol reboot different from the original?
If you're deeply attached to the format of the show, you don't have to worry. American Idol may have changed networks, but it's still American Idol and it knows exactly who its fanbase is. It's not about revolutionizing a series that has been more or less the same for years. However, that doesn't mean that nothing at all will be altered.
For one thing, there will be new judges. Katy Perry, Luke Bryan, and Lionel Richie will be fielding auditions and critiquing competitors. They also spoke to Entertainment Tonight about other changes made from the original show. Bryan explained that they were all artists, which gave them a different perspective than past record executives who have held the job. All three judges also emphasized that they were going to be more sensitive and encouraging, which meant one major difference: no more mean-spirited bad auditions.
In the past, American Idol has mined a lot of questionable humor from people who weren't professional singers coming on the show to try out. But Entertainment Tonight reported that executive producer Trish Kinane said that wouldn't be happening in the reboot. At ABC's Television Critics Association press tour, Kinane said:
You might have noticed in the past few years, we haven't really majored on people who are really bad. Because one of the key things about the show is it shouldn't feel manipulated or fake because 15 years ago, nobody had ever seen it and it was funny. Viewers know now, they've all watched all these shows in 15 years, and it doesn't feel comfortable to put borderline unstable people up and laugh at them.
However, that doesn't mean that all humor or eccentricity will be missing from Idol going forward; all it means is that people who might not have the best voices won't be thrust into the spotlight as the butt of the joke. As Kinane added, "We want the humor but we don't want the exploitation." That seems in line with the judges' efforts to be considerate with the people they're evaluating.
According to HollywoodLife, an exclusive inside source also had a few things to say about the new Idol. Take anything anonymous with a grain of salt, but the source said:
Some things that have been addressed is the age of the contestants. They want to make it more drastic and give more people young and old a chance to win the show. They also want to introduce different ways to vote where the judges have more say on who goes on from week to week. They also want to keep the Idol save. Another idea they are considering would be having the contestants perform with each other as well as on their own.
But Newsday summed up the differences neatly, saying there would be a new network, new judges, and a new theme song, but little else about American Idol has changed. It's recognizable as part of the same series, and doesn't deviate in any major ways. While some might have been hoping that the jump from FOX to ABC might have resulted in some more daring choices (or at the very least different ones), it seems like the old American Idol was left basically intact. Some viewers might not enjoy that, but there are others who probably will. There is something comforting about the show staying the same, after all.
Check out Romper's new video series, Romper's Doula Diaries:
Watch full episodes of Romper's Doula Diaries on Facebook Watch.