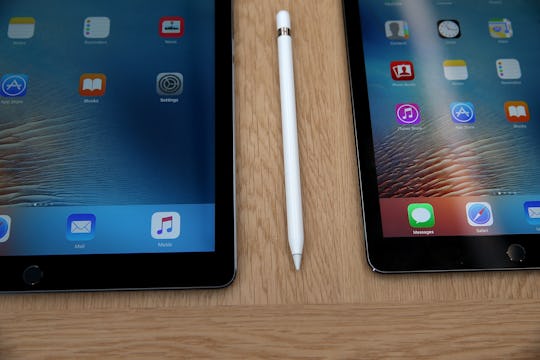 Justin Sullivan/Getty Images News/Getty Images
How Is The New iPad Different? It's Like A Smaller, Cuter iPad Pro
During Apple's recent celebration and media event at the headquarters in Cupertino, California, Apple CEO Tim Cook made several exciting and not-so-exciting announcements. There's a new iPhone (exciting). It looks just like the old iPhone (not-so-exciting). Well, there's also a new iPad (exciting). But how is the new iPad different from the old one? Is it at all?
Apple introduced the new product as a "smaller iPad Pro," so the main difference is that it's smaller. It's got a 9.7-inch display and is light, like an iPad Air, but Cook was clear that this is no lame iPad Air. It's got some major improvements. First, according to The Guardian, the device has a "pro display," which somehow adapts to be the optimum color and lighting for its environment. It also comes equipped with the same audio package as the older iPad Pro, which means it's got four powerful speakers.
But, let it be known, this is not the same old iPad Pro. It's smaller, remember? It runs the same A9X as its larger counterpart, but with none of that bulky weight. It can also handle iPad Pro accessories, like the iPad Pro keyboard and the Apple Pencil so that one doesn't have to sacrifice practicality for style. What's more is it boasts a great camera that is supposedly even better than the iPad Pro's (time will tell). It's got True Tone Display, a 12-Megapixel rear camera, a 5-megapixel FaceTime camera, Retina Flash, Panorama capabilities, and 4K video recording. (It does have a little camera numb, which may rub some the wrong way.)
Even with that 9.7-inch screen, the thing weighs less than one pound. Cook maintained that it has a better and brighter display than the iPad Air 2, with a 25 percent better, brighter range of colors. But enough about its insides, what about its outsides? It will come in Rose Gold, among other new colors, and they'll be releasing more cases so that these thinner, lighter iPads don't just snap in half.
In conclusion, the news about the new iPad was much the same as the news about the new iPhone. (Insert device) is the same, but smaller, like it used to be. The major difference with this new gadgetry is the price tag. The new iPad is $599 for the 32GB version, $749 for 128GB, and $800 for 256GB. That's about $200 more than the iPad Air 2, which, incidentally, is also really small and light. The new iPad will be shipping out to consumers on March 31.