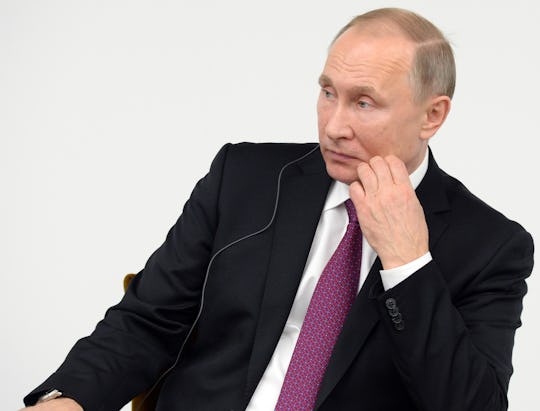 Pool/Getty Images News/Getty Images
How Is Vladimir Putin Linked To Michael Flynn?
He may have been one of President Trump's closest advisers since as far back as the beginning of his presidential campaign, but on Monday night White House national security adviser Michael Flynn announced he would be resigning only about a month into his new role due to controversy surrounding his communication with the Russian government. How is Vladimir Putin linked to Michael Flynn's resignation? According to CNN, reports surfaced in January that in a December phone call with Russian Ambassador Sergey Kislyak, Flynn allegedly illegally discussed the government sanctions levied against Russia by the Obama Administration — something he was not authorized to do.
When the allegations became public, Vice President Mike Pence defended Flynn, and told CBS News in January that it was "strictly coincidental" that the two men spoke in December, and Pence suggested it was little more than friendly correspondence offering up Christmas wishes. At the time, Pence also said that Flynn and Kislyak "did not discuss anything having to do with the United States' decision to expel diplomats or impose censure against Russia," and when asked specifically if "anyone from the campaign was ever in touch with Russia," Pence replied that "to suggest that is to give credence to some of these bizarre rumors that have swirled around the candidacy." Representatives for Flynn have not responded to Romper's request for comment.
Even though Pence and the Trump Administration initially denied any wrongdoing by Flynn, in Flynn's own resignation letter, he admitted that he had "inadvertently briefed the Vice President-elect and others with incomplete information regarding my phone calls with the Russian ambassador," according to CNN. Although he stopped short at confirming that he had indeed discussed sanctions with the Russian Ambassador illegally, The Washington Post reported that the two men had spoken by phone on Dec. 29, the same day Obama imposed the new sanctions on Russia, and that Kislyak himself had said he'd been in touch with Flynn by text message, by phone and in person even before the Nov. 8 election and throughout the transition.
In an interview in February, Flynn denied that he had discussed sanctions with Kislyak, according to The Washington Post, but one day later, a spokesperson for Flynn said that Flynn had "indicated that while he had no recollection of discussing sanctions, he couldn't be certain that the topic never came up." Whether or not Flynn was legitimately confused or specifically evading the question isn't clear, but a month ago, the Justice Department reportedly warned the Trump Administration that Flynn "misled administration officials," and that he was "potentially vulnerable to blackmail by the Russians," as a result, according to CNN.
In addition to being potentially illegal, Flynn's phone calls might be indicative of why it was that Putin ultimately opted against hitting back at Obama for expelling Russian diplomats from the United States. According to NPR, Obama levied the sanctions against Russia in response to what the White House called "a decade-long campaign of cyber-enabled operations" against the United States, including alleged interference in the Nov. 8 election. While it was expected that Putin would bar U.S. diplomats from Russia in retaliation, Putin later said through a translator that he would not "stoop to the level of irresponsible diplomacy," by doing so, and added, "Nevertheless, I offer my New Year greetings to President Obama and his family."
Following Putin's remarks, Trump praised him on Twitter, where he wrote, that Putin's decision was a "great move," and added that he "always knew he was very smart!"
In light of Flynn's resignation though, it appears that perhaps there may have been more to it than just Putin being "smart," or open to cooperating with the United States. That's because, according to The New York Times, U.S. government officials have claimed that during his Dec. 29 phone call with Kislyak, Flynn had allegedly given the Russian ambassador the impression that the sanctions wouldn't stick under the Trump Administration, and that Flynn allegedly "urged Mr. Kislyak to keep the Russian government from retaliating" over them.
Neither Flynn, nor anyone from the Trump Administration, has commented publicly on the claim, and according to The Independent, Russia has also avoided getting publicly involved, with Putin spokesperson Dmitry Peskov telling reporters Tuesday that Flynn's resignation is "the internal affair of the Americans, the internal affair of the Trump Administration," and added that "It [has] nothing to do with us." Russian Member of Parliament Leonid Slutsky wasn't exactly as neutral on the matter though, and was quoted by state news agency RIA as saying,
It's obvious that Flynn was forced to write the letter of resignation under a certain amount of pressure. The target was Russia-US relations, undermining confidence in the new US administration. We'll see how the situation develops further.
For now, Flynn will be temporarily replaced in his role by Gen. Keith Kellogg, according to CNN, and it's expected that Kellogg, retired Gen. David Petraeus, and former Vice Admiral Bob Harward are all being considered as permanent replacements by the Trump Administration.