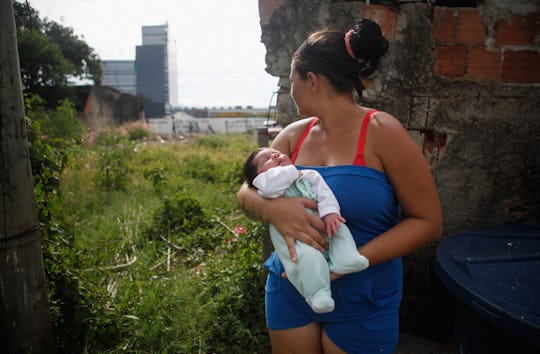 Mario Tama/Getty Images News/Getty Images
How Is Zika Transmitted During Sex? It's Not Like Other STDs
On Tuesday, the World Health Organization held an emergency press conference in Geneva to address the ongoing threat of Zika virus in South and Central America. During the meeting, WHO Director-General Margaret Chan spoke about how people can — and should — protect themselves from Zika (as prevention is key). But it seems protection is no longer limited to insect repellant, pants, and long-sleeves: according to Chan, and USA Today, investigations in several countries "strongly suggest" Zika can be spread through sex. But how exactly is Zika transmitted during sex?
According to recent reports out of the Centers for Disease Control and Prevention, it appears Zika is spread through semen. Men can spread Zika virus to their sexual partners before, during, and after they exhibit symptoms, and it appears the virus can live longer in semen than it does in blood, though the CDC does not know how long Zika's lifespan is in semen, according to a release on the CDC website:
We do not know how long the virus is present in semen in men who have had Zika. We do not know if infected men who never develop symptoms can have Zika virus in their semen. [And] we do not know if infected men who never develop symptoms can transmit Zika virus through sex.
However, just because men are known transmitters does not mean women cannot transmit the virus. According to the CDC, there are still too many variables to make that determination.
We do not know if a woman can transmit Zika virus to her sex partners.
So what should people do to protect themselves? The CDC has cautioned pregnant women (and men with pregnant partners) to use condoms for vaginal, anal, and oral sex and/or avoid sexual activity altogether if their partner lives in, or has traveled to, an area affected by Zika. For those trying to become pregnant, the CDC advised women and men to talk with their healthcare providers as soon as possible:
At this time, we don't know how long Zika is present in semen in men who have had Zika, and we don't know if men who had Zika but never developed symptoms can have Zika in their semen.
More than 40 countries have been affected by Zika, according to the European Centre for Disease Control and Prevention (ECDC), and USA Today reported that more than 150 cases have been documented in the U.S.