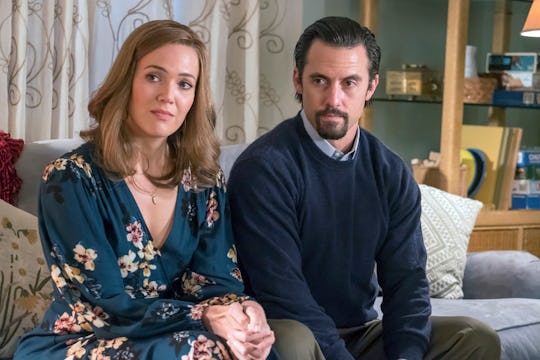 Ron Batzdorff/NBC
This One Detail On 'This Is Us' Could Finally Explain Jack's Death
Knowing that Jack Pearson isn't long for this world on This Is Us makes every scene with him feel all the more significant. Fans have been desperate to know what caused his death ever since it was revealed that he was gone, and how Jack died on This Is Us could be explained with this one tiny detail. Early on in "Number One," there was a moment in the flashback to the Big Three's teen years that could have been a lot more important than it seemed at first glance.
Season 2 has been parcelling out details about Jack's demise so that the audience now has a vague idea of where and when it happened, even if the specifics are still hazy. Jack died when his kids were in their teenage years, not long after his decision to get sober, and it had something to do with a fire at the Pearson home. Though his exact cause of death still hasn't been confirmed, it does seem clear that whatever happened the night of the fire also led to Jack's passing.
In "Number One," teen Kevin was perusing college brochures on his bed when a fuse went out and the house was plunged into darkness. Jack was quick to fix it, but the problem might not be entirely solved.
Blown fuses could be a sign that something was wrong with the wiring at the Pearsons', and that might be foreshadowing for whatever is going to happen just a few months down the line. It's possible that the blown fuse was hinting at an electrical fire that would destroy the house and result in Jack's death. It may seem like a big jump because it was such a small moment, but on shows like This Is Us — shows that know their viewers are analyzing everything — no moment is accidental.
The fuse could also tie into a pre-existing fan theory about how Jack dies. Back in the first season, an episode entitled "The Best Washing Machine in the World" explored the impact that seemingly nondescript household appliance had on the Pearsons. It acted as a symbolic representation of the state of the family, as well as Jack and Rebecca's marriage; as things became rougher between them, it began to break down. One theory holds that the washing machine could be the source of the fire; perhaps both the faulty machine and the blown fuse could indicate that electrical issues will be to blame for what happens.
Reddit user ashelizabethmoon first posed the Washing Machine Theory. They gathered all the evidence that something was wrong with the washing machine: teen Kevin's comments about it being "possessed," the fact that the timing is right because all the kids are in high school, and the past emphasis on the washing machine. An interview with creator Dan Fogelman could uphold that idea, too.
"What causes the fire is going to be heartbreaking," he said to Entertainment Weekly., adding:
The small movements of our lives, and how big they can become if little things break the right way or the wrong way — I've always been fascinated by [the fact that] you could have met your husband or your wife if you had just not gone that way at the bar that night, or the friend hadn't wanted to set you up. The great things in your life, how easily that sliding door could have gone a different way, as well as the tragedy. That's part of our story.
The idea that something simple could cause such immense tragedy fits perfectly with the themes of This Is Us. It would make sense, especially based on Fogelman's words, that a washing machine or a blown fuse could result in so much heartbreak. Fans would do well to pay attention to the smallest moments, because they might be the most revealing.
Check out Romper's new video series, Romper's Doula Diaries:
Watch full episodes of Romper's Doula Diaries on Facebook Watch.