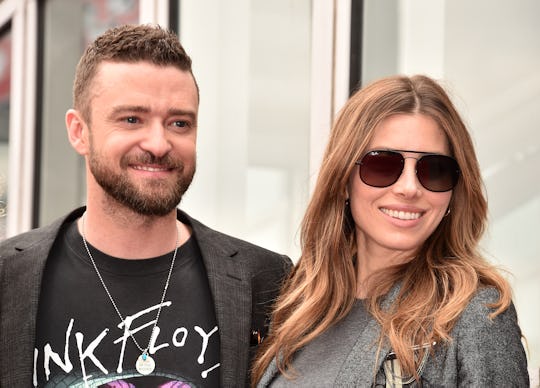 Alberto E. Rodriguez/Getty Images Entertainment/Getty Images
Justin Timberlake Shared The Sweet Story Of How Jessica Biel Told Him She Was Pregnant
Justin Timberlake is one of the biggest pop stars in the world, but there's still a lot fans don't know about his personal life with wife and their 3-year-old son, Silas. But in his new book, Hindsight & All The Things I Can't See In Front Of Me, he's revealing more about that important part of his life. For example, in the book, Justin Timberlake revealed how he found out Jessica Biel was pregnant with their son, and it's such a heartwarming story.
Hindsight officially came out earlier this week, according to Us Weekly, and the book is exactly what the title says it's about. In the book, Timberlake looks back on pivotal moments during his life, including his rise to fame, talking about his famous friends, and reflecting on what it means to be a husband and a father, according to Variety. Timberlake also shares the juicy details about the moment he found out he was going to be a father, according to E! News.
Timberlake wrote that his life "changed forever" during a stop on his 20/20 Experience Tour, which took hims all over the world in 2013 and 2014. "I was in Detroit and pulling a week or two by myself because my wife was in Los Angeles, but was coming to visit me in a few days," Timberlake wrote, according to E! News. "I had just finished a show and I go into my car and took my phone out."
Timberlake continued, according to E! News, writing:
There was a text from Jess, in all capital letters. It read "Call Me Now." I FaceTime her back immediately. She answered with this look on her face, and I knew exactly what she was going to say. Instead, she held up the pregnancy test, and we both started bawling. I ended the tour early so I could be at home and take care of my family. My last show was in Las Vegas, on January 2, 2015. Three months later, I was a father.
Silas was born in early April 2015, according to E! News, but his birth didn't go according to plan. Although Biel planned on having a natural delivery surrounded by midwives in a home in Hollywood Hills, Biel had to be transferred to a hospital to have an emergency C-section, according to Entertainment Tonight.
Since his birth, both Biel and Timberlake have shown time and again how dedicated they are to their son. And although he had to cut his tour short in 2015, both Biel and Silas joined Timberlake on his tour earlier this year, according to People.
In the years since his son was born, Timberlake has been open about his experience with being a father — but he and Biel are still hesitant about sharing too much of Silas with the world (for example, they only post photos of him where his face is hidden from the camera). Timberlake discussed why they do this in his new book, according to TooFab:
It was important for us to choose how to share him with the world because this is a new era for me. It's no longer just about me. I have a wife, a child — a family. It's terrifying. It's invigorating. It's more meaningful than anything I've ever been a part of.
It's clear that, from the moment he learned he was going to be a father, Timberlake will do anything for his family.