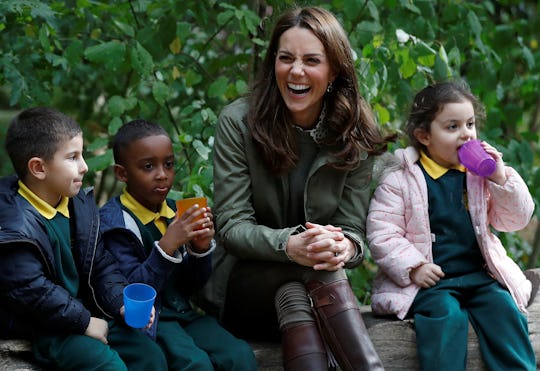 WPA Pool/Getty Images Entertainment/Getty Images
How Kate Middleton Answered A Little Girl Asking Why People Are "Picturing" Her Is So Sweet
Kate Middleton has a wonderful way with children, a skill she put on display Tuesday during a visit to the Sayers Croft Forest School and Wildlife Garden in Paddington, England. Want some proof? When a young girl asked Kate Middleton why people were "picturing" her, she delivered the sweetest response. Get ready to tear up, folks.
It's probably safe to say the Duchess of Cambridge is used to the global attention she receives by now. Middleton, along with her three kids (Prince George, 5, Princess Charlotte, 3, and Prince Louis, 5 months), are photographed wherever they go, and run-ins with the paparazzi are something they deal with quite often.
Oh, and I did mention the royal family employs a team of professional photographers tasked with documenting their official events? Yep, it's fair to argue that the Duchess of Cambridge lives in fish bowl.
But as much as Middleton might be used to her fame, the concept tends to be lost on young kids. Case in point: a student at Sayers Croft Forest School and Wildlife Garden felt compelled to ask Middleton during her visit, according to People: "Why are they picturing you?"
Although the Duchess of Cambridge could have given the adorable girl a logical answer, she chose to deliver a heartwarming response instead.
"They're picturing you cause you're special!" Middleton gushed as she walked hand-in-hand with the girl towards a picnic table, according to the Daily Mail.
First off, I love how the little girl said "picturing" instead of "photographing." It's such a cute way to describe the act of photographing someone.
As for Middleton's answer? I couldn't be more touched with her handling of the situation because she probably made the student feel incredibly special. This precious moment just goes to show the depth of Middleton's heart. The mom-of-three is a real gem.
But wait — there's more cuteness from the day to rehash.
While at the school, Middleton helped students make leaf crowns, and she also participated in story time.
"Making leaf crowns with St Stephen's School – The Duchess sees an example of the positive impact @SCTrust's activities have on children's emotional and physical wellbeing," a tweet from Kensington Palace reads.
Lastly, the Duchess of Cambridge enjoyed a spider hunt with the kiddos.
"She really gets what we are doing here and said she often takes her children on spider hunts in their garden, which they love," Zoe Stroud, interim Head of Sayers Croft Forest School, said, according to ELLE UK. "They can spend hours out there."
Aww. Although I'm not the biggest fans of spiders, it's sweet to imagine Middleton searching for the creatures with her kids.
Middleton's visit to the school comes five months after she gave birth to Prince Louis in April, and people were thrilled to see her back in action.
"I'm so glad she's back. The best duchess. She's stunning!" someone wrote on Twitter.
"Wonderful to see the Duchess Cambridge back!" another person chimed in. "We missed her! This is a great organisation for children in the city to get closer to nature."
"It is so important for children to learn about nature, its benefits, and how to respect it," a fan penned. "Congratulations to The Duchess of Cambridge for providing her support to @SCTrust Forest School and Wildlife Garden!"
"Love her very very much," one commenter gushed.
"What a great disarming smile!" one person said. "The children appear comfortable and happy. Reading with children is so very important!"
It's quite obvious Middleton is beloved by the public, a sentiment that doesn't surprise me. Not only is the Duchess of Cambridge lovely with children, but she also knows how to make them feel special.