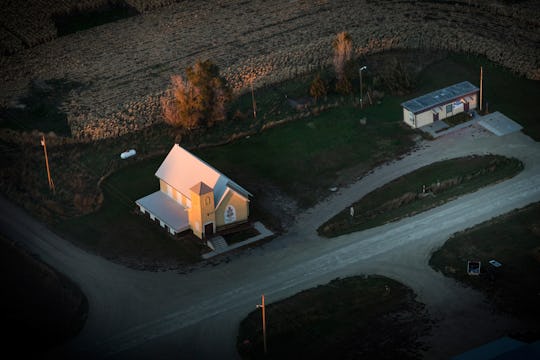 Andrew Burton/Getty Images News/Getty Images
How Keystone XL Could Affect Families
According to the Associated Press, a previously rejected pipeline has just come back to life: On Friday morning, President Donald Trump's administration issued a presidential permit to TransCanada, giving the energy company the go-ahead to build the Keystone XL pipeline. The controversial 1,179-mile pipeline will stretch from the oil sands of Alberta, Canada, to Steele City, Nebraska, shuttling 830,000 barrels of oil through it a day. But there was a good reason why the project was shut down in the first place: the Keystone XL pipeline could affect families in the United States and Canada.
Some might wonder why the pipeline has received so much opposition in the first place. After all, there is already an existing Keystone pipeline that transports 550,000 barrels of oil a day to the United States. According to the BBC, Trump has said the pipeline's construction would create 28,000 construction jobs, and more oil should lower fuel prices overall in the country. Aren't those all good things?
For those concerned about climate change — a global threat whose "dangerous" effects will be affecting humanity by 2036, according to NPR — those positive effects are remarkably short-sighted. The Keystone XL project has come to represent advocates' fight against climate change, and the pipeline represents an unsustainable dependency on fossil fuels, worsening climate change, and delays in switching to more sustainable alternatives.
No one is debating the fact that the Keystone XL project would create many short-term jobs. It would — and it would create about 50 permanent jobs overall, according to the State Department. But it would also affect families currently living on farmlands, disrespect indigenous treaties, and further harm children's increasingly worrying future.
It Exacerbates Climate Change
According to National Geographic, pulling oil from tar sands is less environmentally friendly than most conventional extraction methods (if any of them can be said to be particularly environmentally friendly, that is). A barrel of oil from tar sands requires 17 percent more energy to produce than the usual barrel of oil in the United States, according to The Washington Post. It produces more greenhouse gases than alternatives, and creating more pipelines could mean faster extraction, thus accelerating climate change and increasing dependence on fossil fuels — rather than looking for green alternatives that would lead to sustainable jobs.
Climate change is already happening, but by 2036, it will cross the 2-degree threshold. "Dangerous climate change is going to be happening by then," Travis Rieder, a philosopher at the Berman Institute of Bioethics told NPR. "Very, very soon."
More and more, parents are realizing that it's too late to stop climate change — but that it's on them to protect their children from the worst effects of it. Taking a stand against oil sands is part of that. TransCanada did not respond to Romper's request for comment regarding activists' and scientists' claims that yet another pipeline will worsen climate change and the U.S. dependence on fossil fuels.
It Could Affect Farming Families & Landowners
Farmers and landowners have been fighting against the construction of the Keystone XL pipeline for years now, according to Farm Aid, an organization that fights to protect family farms' land. When TransCanada was forced to reroute away from Nebraska's environmentally fragile Sand Hills wetlands, the company tried forcing landowners on the new route to sell their land to them.
Now that plans for the Keystone XL pipeline's construction have come back to life, family farms that have held their land for generations may need to ready themselves for a second fight. Even in 2015, the director of landowner group Bold Nebraska, Jane Kleeb, told The Globe and Mail that families were ready to fight the pipeline regardless of any election outcome that changed pipeline decisions. As she told The Globe and Mail:
Nebraska will still be a major roadblock for [TransCanada], regardless of who is in the White House.
TransCanada didn't immediately respond to Romper's request for comment about whether it will work with family-owned farms who believe their lands and livelihoods will be affected by the pipeline.
It Ignores Indigenous Families' Requests
Across Canada and the United States, indigenous groups have banded together to fight against oil sand expansion. A treaty alliance, signed in September 2016, aims to block any and all pipeline, tanker, and rail projects that could affect First Nations land, according to The National Observer.
"Based on our sovereign, inherent right to self-determination, we have collectively decided that we will pick up our sacred responsibilities to the land, waters, and people," Grand Chief Stewart Phillip, of the Union of BC Indian Chiefs, said at the signing. "We will come together in unity and solidarity to protect our territory from the predations of big oil interests, industry, and everything that represents."
First Nations groups in Alberta have already sued the Canadian government over 15 years of oil sands development, according to the BBC. Now that the Keystone XL pipeline is back on, it would be surprising if First Nations and indigenous groups didn't protest the pipeline and its ability to harm their traditional lands.
TransCanada didn't immediately respond to Romper's request for comment regarding indigenous people's arguments that the pipeline infringes on treaties that grant them sovereignty over their lands.
In the days that come, there will likely be many rallies and protests as families show up to defend their rights to a greener future. Whether that will change the future of the Keystone XL pipeline, though, remains to be seen.