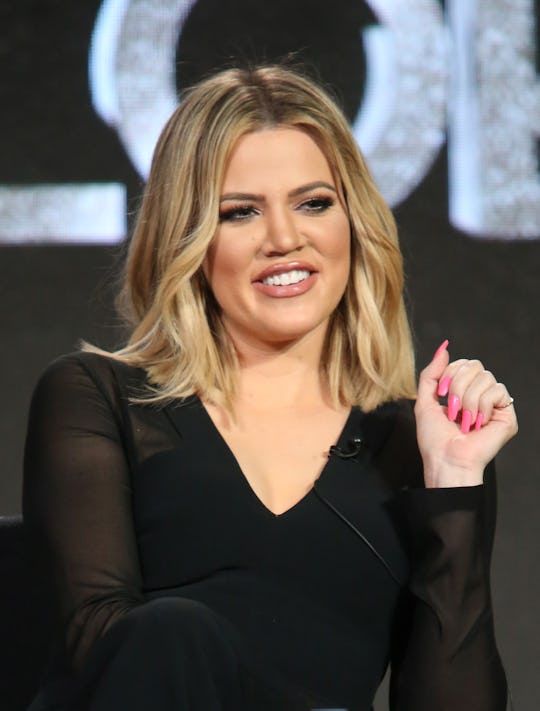 Frederick M. Brown/Getty Images Entertainment/Getty Images
How Khloe Kardashian & Tristan Thompson Met Is Adorably Old School
As if we didn't get enough Kardashian-Jenner news over the weekend, Us Weekly reported Tuesday that multiple sources say Khloe Kardashian might be pregnant with Tristan Thompson's baby. But, for those of us who don't eat, sleep, and breathe everything Kardashian, we need some background. Let's start with how Khloe Kardashian and Tristan Thompson met, because that seems like an important foundation before getting into the wild internet theory that either this pregnancy rumor or Kylie Jenner's pregnancy rumor is fake.
Kardashian talked about her relationship with Thompson on a recent sneak peek interview with Ryan Seacrest about the upcoming Keeping Up With The Kardashians Ten Year Anniversary Special, according to Us Weekly. Seacrest asked her why she has historically dated basketball players and whether she has a "type," and Kardashian said she actually didn't really "choose" Thompson out of a crowd or according to some type — she was actually set up with him on a blind date. I have one other friend who met her boyfriend on a blind date, and I can't believe it still happens. I also don't understand how millennials who grew up in the age of binge watching Law & Order: Special Victims Unit and Criminal Minds are still comfortable meeting strangers, but that's just me.
When Kardashian's mom, Kris Jenner, asked who set them up, Kardashian said, according to Us Weekly:
Brandon Jennings, who is a basketball player, he is a friend of mine and Malika [Haqq]'s, and he was like, 'You're such a good girl, I want to introduce you to someone.'
But Kardashian said she wasn't into the blind date idea (maybe because she's seen too much SVU like me...), so Jennings sort of tricked her and just brought Thompson with him one night when he met up with Kardashian and their friends. She said, according to Us:
I was at the Bel-Air Hotel. He came to the dinner. I didn't want to go on a blind date. So Brandon kind of ambushed the blind date. So I had a bunch of people, and he brought him and we just connected.
In an interview with You magazine (republished by The Daily Mail), Kardashian described Thompson as protective, and she seems incredibly happy and secure in the relationship:
Tristan is protective of my entire family, which is beautiful. And I love that everything we do is as a union. When he speaks, it's 'us' and 'we,' and that's important because it shows that you're sharing life. The best thing is that we're able to communicate about anything, and I think a lot of relationships don't flourish because people are afraid to voice their opinion, not wanting to rock the boat.
Later in the interview, Kardashian jumped to the *important* subject. Well, it's important as of Tuesday's rumors. She said that she and Thompson have the same religious belief systems, which she thinks is important because many of her girlfriends "get pregnant without talking about things such as religion with their significant others." She and Thompson, though, leave no stone unturned when it comes to discussing their beliefs, which I find pretty damn cool. That should be the idea of a "normal" relationship, in my opinion.
Right after Kardashian talks about her spiritual and intellectual connection with Thompson, she said she definitely wants a family, but doesn't "feel any pressure," according to The Daily Mail and her You interview:
Tristan is a great dad [he has an eight-month-old son with his previous partner] and he definitely wants more children, but we both feel that it will happen when the time is right. We're still in a new relationship and I love us having time together. Once you have kids you can't get back your non-kid years. My sisters and I bother my mum all the time, so I know it's not, like, 'When they're 18, you don't worry about them again.' You worry about your children for the rest of your life. The concern I have is raising little human beings in a world that's filled with such hate and terror. That seems very scary.
And that's an incredibly powerful and important insight. It's clear that Kardashian, if she is pregnant, thought about what it would mean to her to raise a child in the world as it currently is. Kardashian hasn't been quiet when it comes to political issues. When Trump decided to end Obama's landmark immigration legislation, Deferred Action for Childhood Arrivals (DACA), she released the following Instagram:
Regardless of whether Kardashian is pregnant, she clearly takes parenthood very seriously. To raise a kid in this world would be great, in her opinion, but it could also be terrifying. Given how she's described her partner, I've got a hunch that they could handle it, but for now that's entirely a sort of happy speculation.
Watch Romper's new video series, Romper's Doula Diaries:
Check out the entire Romper's Doula Diaries series and other videos on Facebook and the Bustle app across Apple TV, Roku, and Amazon Fire TV.