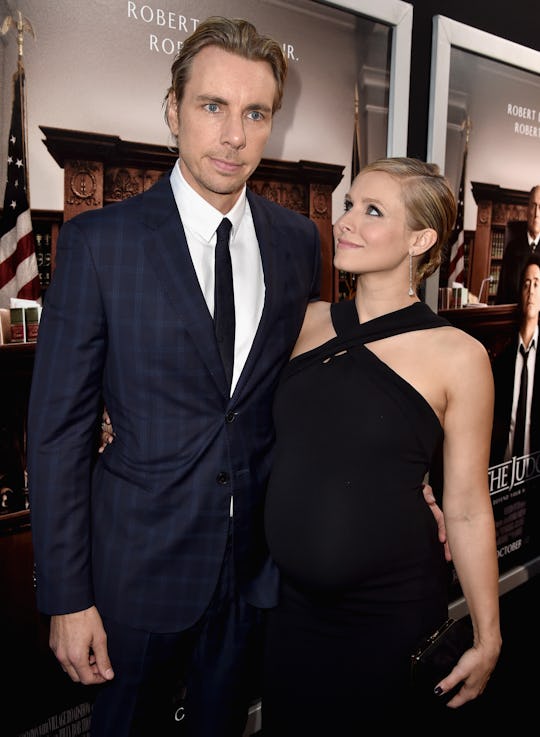 Kevin Winter/Getty Images Entertainment/Getty Images
Kristen Bell Shares The Delightful Way Her Kids Take After Their Dad, Dax Shepard
Most movie stars are known for giving short, simple answers on the red carpet, ones that don't always or really satisfy their fans watching at home. But that's not Kristen Bell's way of doing things. In fact, the star gave a deep and detailed explanation of her family dynamics, more specifically, how Bell's kids take after their dad, Dax Shepard. And how the pair's daughters resemble their father is incredibly sweet, but probably not what you might have guessed.
During a recent interview with Entertainment Tonight, Bell — talking to reporters as she made her way into the premiere for her new film, Like Father — was asked how daughters Lincoln, 5, and Delta, 3, may be similar to her and Shepard. Instead of just throwing some trite answer, Bell was thoughtful, explaining that she credits her kids' deep curiosity about the world around them to their actor dad, her husband of almost five years.
They're "really good critical thinkers," she told Entertainment Tonight. "They ask a ton of questions... and not annoying questions but questions that are leading them to a sort of greater truth."
In the same interview with Entertainment Tonight, Bell went on to explain:
They ask reasons why a lot... Like this afternoon my husband was listening to a podcast about Watergate, about how the Nixon presidency fell, and my 5-year-old was like, "Why did that woman want to call the newspaper?" And he was trying to answer and he's like, "I can't unravel for you why the Nixon presidency tumbled," and [Lincoln] was like, "Well, try." I was like, "Good for her!"
She continued, according to Entertainment Tonight, "It takes a lot of energy to stay and answer all those questions... We'll probably save [explaining] Nixon for a later date."
And, because my mom crush on Bell couldn't get much bigger, the actress not only uses her face-time with the media to delight fans with sweet anecdotes about her kids, but she also makes sure to address important issues as well. For example, ahead of her new film's big launch, Bell mentioned that diversity still needs to be pushed further in Hollywood, according to The Independent, especially when it comes to hearing more women's voices in the show and movie choices that are offered.
In Like Father, which releases on Netflix on Aug. 3, Bell stars alongside Emmy winner Kelsey Grammar as a workaholic father-daughter duo who reconnect after the daughter is left at the altar, according to IMDB. The film was directed and co-written by Lauren Miller, the wife of Seth Rogen, and the film co-stars Rogen. As Bell explained to the Irish Examiner:
I'm grateful to Netflix for giving Lauren the green light to write and direct this movie and I don't know that you would've got the same movie if it was a man [heading it up]... Men are very valuable directors but when you're a director, the lens you're looking through and your own life...affects the story you tell.
When it comes to everything Bell says, I can only add, Preach it, mama! The star is a great example of someone trying to have a meaningful career and a quality family life, and her choice of projects always surprises and delights. She's readying Frozen 2 for a 2019 release and she recently participated in a hilarious video about kids going back to school in the fall, benefiting the Boys and Girls Clubs of America. The way I see it, Bell has something for everyone in the family.
And hey, with all those great history lessons going on in her household, if this whole Hollywood thing doesn't work out, Bell and Shepard could always start an elementary school. Anything's possible, right?