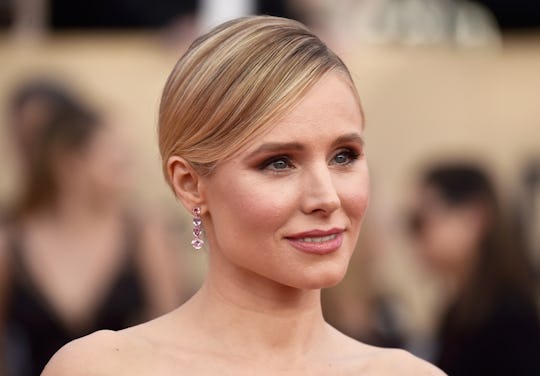 Frazer Harrison/Getty Images Entertainment/Getty Images
Kristen Bell Has A Clever Method For Teaching Her Kids To Give Back To Those In Need
Let's face it: Convincing young children to share can seem like an impossible task. It's mostly a lost cause at the toddler stage, when kids aren't quite old enough yet to understand the concept — they're just royally ticked off that you're making them give up their toy for someone else to play with. Which is understandable. By preschool, though, most kids will know they probably should share (and why it's nice to do so), but they may still need a little prompting. Of course, children of celebrities face these same challenges when learning about things like sharing and charitable giving. (Celebrities: They're just like us!) And how Kristen Bell teaches her kids to give back to those in need is something all parents can learn from.
As a refresher, Bell shares two daughters with her husband, Dax Shepard, according to Us Weekly: Lincoln, 5, and Delta, 3, Maybe because Bell herself is no stranger to starting and partnering with various charities, but it seems like the actress is really onto something. Because the way she approaches instilling these same values in her children is super smart.
"When we get a toy into the house, they are responsible for picking a toy to go out of the house," Bell recently told Hello Giggles at a launch party for This Bar Saves Lives, a snack bar brand co-founded by Bell that helps feed starving children around the world. "We talk about the work I do at Baby2Baby because I'm one of their Ambassadors. We have a Baby2Baby donation bin at their school."
So not only is this amazing from a charitable point of view, but it's genius from a clutter prevention stance. (Mom win, for sure.) Another trick Bell has up her sleeves: The Nickelodeon TV show, Paw Patrol. Bell went on to explain in the same interview with reporters that since she's an ambassador for Baby2Baby, there's actually a donation bin at her daughters' school. "We walk past it, and there's a PAW Patrol toy at the top, and they want it," Bell said, according to Parents. She continued:
And I say, "You know how excited you are about your PAW Patrol toys? Some kids don't have any! Any PAW Patrol toys. Well, what would that feel like if you had no PAW Patrol toys?"
Instead of simply instructing her girls to donate items, this clever mama explains the concept of giving back in terms that her young daughters can comprehend. "Kids don't understand that," she said, according to Parents. "But if you say to them, 'Well, what would it feel like if you had no toys?' Then, they go, 'I would feel sad.' And you go, 'Some kids don't have any toys. That sucks! And their parents work really hard, and they still can't afford toys.'"
Evidence that this Paw Patrol-assisted lesson had a real impact came when Bell's older daughter, Lincoln, was nearly 4 years old. "She out of the blue came out of her bedroom and was like, 'Mom, I want to give this to a kid who doesn't have toys," Bell said, according to Hello Giggles. Even more aww-worthy? Lincoln insisted on wrapping the donation herself before placing it in the bin at school. (Be still, my heart!)
So here's my takeaway from Bell's most recent interview: She is truly a kick-butt mom. In all seriousness, though, when it comes to teaching kids about giving back, it seems like it's best to start 'em young. And doing it on a level that really drives the point home is key. Paw Patrol or not, finding a way to help young children connect the dots seems to make them want to do good — instead of just feeling obligated to do so "because I said so" — makes a world of difference.
Check out Romper's new video series, Bearing The Motherload, where disagreeing parents from different sides of an issue sit down with a mediator and talk about how to support (and not judge) each other's parenting perspectives. New episodes air Mondays on Facebook.