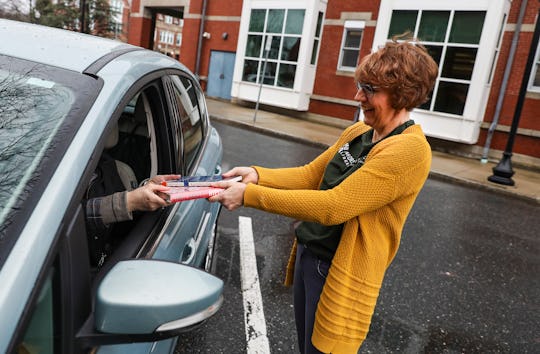 Boston Globe/Boston Globe/Getty Images
Not Even A Pandemic Can Stop Libraries From Encouraging Readers
The quarantine has changed everything, but one of the biggest hits is our libraries. Normally a source of information, entertainment, and education, our libraries can no longer operate in the same way. That doesn't mean they're not out there working hard for readers, though, and it's fascinating to see how libraries are encouraging readers during the pandemic.
Librarians are the original educational chameleon dating all the way back to Alexandria. Hear me out. They adapted from being the keepers of science and moderators of philosophy to curators of thought and later, then became the ambassadors of information and literature. As times changed, they became internet gurus, citizenship heroes, and language assistants, all while they still pointed children to their next favorite book. The pandemic has proven that when things change, no one is more capable to adapt than librarians.
The first email I received about their pandemic plans was from my local Brooklyn Public Library, detailing how I could best use their online lending services, where to download anything I might need, and a list of the planned readings and forums that they were going to be doing virtually. It was a bright spot in a very dark time for New York City, and honestly, it was very welcome.